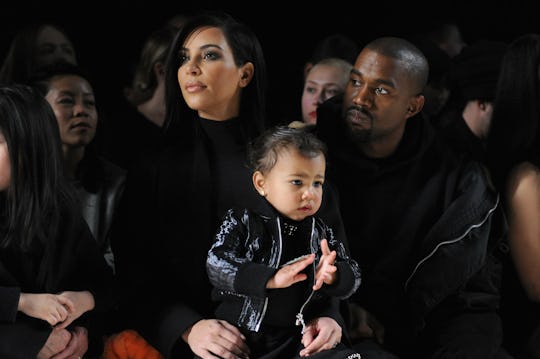 Craig Barritt/Getty Images Entertainment/Getty Images
Kim Kardashian Has Long Been Vocal About Wanting More Kids
On Wednesday, reality TV star Kim Kardashian confirmed to The Hollywood Reporter that she and her husband, Kanye West, are indeed trying for more children — but she held back from explicitly saying they were using a surrogate to do so, as recent rumors have claimed. Some might even take her words as confirmation that baby No. 3 is already on its way. But considering that there have already been quite a few Kardashian quotes about wanting another child, her declaration on Wednesday wasn't all that surprising and we shouldn't jump to any conclusions just yet.
But, that doesn't mean that a baby on the way is out of the question: Speaking to The Hollywood Reporter about the possibility of adding another child to their family, Kardashian said:
I hope so. There have been a lot of things said and Kanye and I have not confirmed anything. We're definitely trying. We are hoping so.
But that's far from the only thing the Keeping Up with the Kardashians star has said about growing her family. The mom of two — including North, age 4, and Saint, who is just over a year old now — has said for a while now that she and West would like to add on to their existing brood. Here is just a small sampling:
On Creating A Support System For Her Kids
According to People, Kardashian spoke about adding to her family in an April episode of KUWTK:
I want my kids to have siblings ... I'd just love nothing more than to expand my family and just know that I have this world at home that's safe. And if for some reason I left this earth sooner than I really wanted to, then my kids would have a support system at home so that I know that they would be OK if I wasn't here.
Talking About Kanye's Baby Fever
Before Kardashian herself decided she wanted to add to her brood, her husband was pretty sure he wanted more kids. In a 2016 episode of Kocktails With Khloe, according to Entertainment Tonight, Kardashian spoke about West's desire for another baby, saying:
I was so set on my two kids and how happy I was with my life the way that it is, but Kanye has been mentioning it every single day lately for the last 10 days.
How North Made Her Want More Kids
According to People, Kardashian told Ellen Degeneres in 2014 exactly how many kids she wanted:
I always wanted about six. After having [North], I would have a million, but the pregnancy... I wouldn't really wish that upon anyone. Anyone. It's all worth it in the end, so I would definitely suffer through that, but pregnancy was not a good experience for me.
Considering Their Options
In an April episode of KUWTK, the mom of two talked about wanting more kids despite her doctors' advice to avoid another pregnancy. After suffering through medical complications during her two pregnancies, she underwent surgery so that she could get pregnant a third time — but the procedure didn't work.
According to People, that was when Kardashian and West began considering surrogacy, with Kardashian explaining during the KUWTK episode:
Kanye and I are going to look into other options and see what we are comfortable with. I'm definitely leaning towards I want to try [surrogacy]. ... After talking to Kanye … I always knew surrogacy was an option, now it's my reality. Whatever is meant to be will be.
While Kardashian may have only just confirmed that she and West are trying for a third child, she's been pretty clear about her desire for a big brood for a while now. And hopefully, there will be another announcement soon about whether another sibling is on the way for this adorable family.