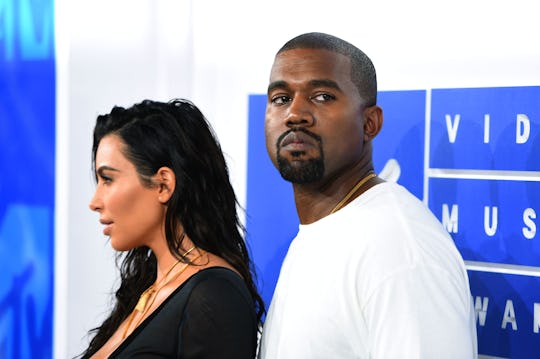 Larry Busacca/Getty Images Entertainment/Getty Images
All Of Kim Kardashian's Quotes About Kanye Show True Love Does Exist
Listen, no matter what you think or feel about the Kardashian-West family, there'sno denying the fact that they love and support each other. Seriously, Kim Kardashian's quotes about Kanye West prove that she seriously loves her husband, and would stand by him through anything.
OK, OK, so Kardashian and her husband are both public figures with public personas and it's impossible to know how they really are in real life, but based on the interviews, social media posts, and comments the two have said about each other, it's clear that they're there for each other no matter what. And that's kind of saying a lot, considering what's been going on with West's Twitter feed these past few days.
And since then, many have been wondering how Kardashian and West's relationship has been going. After all, West's tweets aren't exactly all that politically correct, and Kardashian has done well to steer clear of too much political talk. Nevertheless, looking back on Kardashian's many quotes about West, it becomes even more obvious that the 36-year-old wife and mother of three is totally in love with her husband. And what's more, their love story is truly iconic, and no matter what comes their way, they're going to handle it with the grace that only Kardashian's PR team could compose.
So, take a walk down memory lane and look at all of Kardashian's best quotes about West:
When She Was "Honored" To Be Song Inspiration
Back in 2012, West released his song, "Perfect B*tch," and soon after tweeted out that Kardashian was the inspiration behind the single. Kardashian, never one to miss a chance at getting complimented, allegedly told her friends that she was flattered. Per TMZ, Kardashian said:
I'm honored. I love it. I know he doesn't mean it in a negative way when he says the word 'bitch.' The song talks about how he was with so many other girls but could never find the right one until he met me.
Being able to understand what her husband's art means is just one way in which Kardashian loves West.
When She Revealed That He's Really Just A Sweetheart
Again, Kardashian revealed just how much her husband loved her. During an interview on The Ellen DeGeneres Show, Kardashian explained that underneath all his swagger, West was really just a sweetheart:
He's the most romantic guy I have ever met. He's better than any movie or romantic novel. He is... so amazing, I was truly surprised.
While not everyone may get to see West's romantic side, it's nice that Kardashian appreciates it.
When She Defended His Abhorrence Towards Diapers
Again speaking to DeGeneres, Kardashian explained that she was totally on board with West's parenting style, even if some people were more critical of it. Per Marie Claire, Kardashian said,
He is honestly the most amazing dad; he loves her so much. He really is a hands-on dad. He's not a diaper[-changing] kind of guy and that's OK. But he would; if it's an emergency, he will.
Again, this is just another example of Kardashian standing by her man, no matter what.
When She Appreciated How Much He Loved Her
Of course, Kardashian recognizes that she's totally lucky to have a man like West by her side. According to E! News Kardashian told Cosmopolitan,
I have this best friend who understands me and helps me through all my tough experiences, and vice versa, you know? It just feels like this is it for me. I used to think, well, can you really have it all? The truth, the excitement, and the passion? Now I know you can.
So, despite what people might think, Kardashian is clearly in love with her husband and would stand by him through anything. Something she has made abundantly clear in recent weeks.
When She Stood Up For West Amid All The Drama
Of course, more recently, Kardashian's quotes about her husband have been a little more focused on his controversial tweets. As his better half, many have turned to Kardashian for some kind of explanation as to what he meant. Along with a fairly long thread explaining that West isn't being erratic, Kardashian also told DeGeneres during a recent sit-down that her husband was just working on new music and was being creative.
At the end of the day, Kardashian is supportive of her husband, and the couple's love for each other goes beyond media scrutiny and controversial tweets.