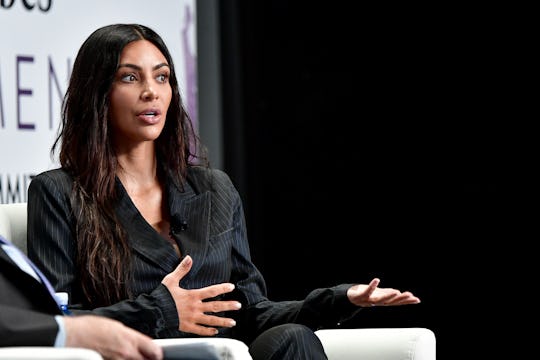 Dia Dipasupil/Getty Images Entertainment/Getty Images
Kim K Responds To Trump's Transgender Military Ban With A Simple Reminder
In just three tweets on Wednesday morning, President Donald Trump made a major decision to ban transgender individuals from serving in the military. Throughout the remainder of the day, people all across Twitter responded to Trump's decision with tweets of their own. Celebrities too, used the platform to voice their opinions — and reality star and designer Kim Kardashian's reaction to Trump's transgender ban in particular was equal parts passionate and patriotic.
"Banning transgender people from serving our country is simply wrong," Kardashian tweeted. "We should be so grateful to anybody who wants to serve!" Kardashian is so right. We should be grateful for anyone who is willing to risk and devote their lives to fighting for this nation.
A quick recap on Trump's decision from Wednesday morning: the policy change will effect the estimated thousands of transgender people already serving in the military and stop any transgender person from joining the military. This decision is a major change from President Obama's 2016 policy that openly allowed transgender individuals to join the military. Trump's policy change has a major impact on the nation, so it is only right for individuals and celebrities, like Kardashian (who has ties to the transgender community), to speak up about it.
Kardashian used Twitter to express her feelings about the news throughout the day, retweeting statements from various organizations and political figures to her 54.4 million Twitter followers.
It is not unlike Kardashian to voice her thoughts about the issues in the nation. In January, Kardashian tweeted out statistics in protest against Trump's "travel ban." But Kardashian has never sided with Trump to begin with. During the 2016 Presidential Election, Kardashian proudly stated that she was voting for Democratic presidential nominee, Hillary Clinton.
"I thought about the things that were so important to me they outweigh everything else," Kardashian said in a letter to fans on her website. "Such as gun control, and protecting women's rights to safe and legal abortion. I found that without a doubt, I stand with Hillary."
Caitlyn Jenner, Kardashian's former stepfather and an activist for transgender rights also responded to Trump's decision on Wednesday afternoon. "There are 15,000 patriotic transgender Americans in the US military fighting for all of us," Jenner tweeted. "What happened to your promise to fight for them?" It should be noted that Jenner voted for Trump in the 2016 election, but it hasn't stopped her from questioning the president's actions. "My loyalty is not with Donald Trump," Jenner said during a television appearance in April. "My loyalty is not with the Republican party. My loyalty is with my community."
Celebrities, just like everyone else, have the right to be upset and speak out about the issues effecting real people in the nation. Kardashian's reaction is a great example of this.