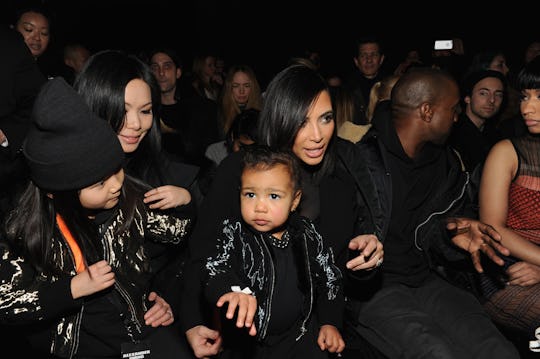 Craig Barritt/Getty Images Entertainment/Getty Images
Kim Kardashian's Snapchat Of North Dancing In Fairy Wings Will Melt Your Heart
Kim Kardashian is undoubtably one of the most popular celebrities in the world. So, when it is time for Kim Kardashian to go on a family vacation, you know she is going to do it big — for the sake of her fans and simply, just because she can. Of course, Kim's little one's don't take vacation lightly either. Taken on a recent vacation to Mexico, Kim Kardashian's Snapchat of North dancing in fairy wings will make you wish you were on a Kardashian vacation, too.
Anyone who follows Kim Kardashian on her social media knows that Kim has been in Mexico on vacation for the past few days. In those days, she has posted various Instagram photos of herself wearing different bathing suits on the beach and even twerking in the water. But when Kim isn't taking gorgeous selfies with friends she is busy being a mom to 3-year-old daughter North and 8-month-old son Saint. (Yes, even Kim Kardashian brings her busy children on vacation). Photographers spotted the family (minus dad, Kanye) on the beach in Punta Mita, Mexico — and it looked like the crew was having a lot of fun, to say the least.
But what looked even more fun for the kids was the night's festivities, captured all on Kim Kardashian's snapchat story (@kimkardashian). In the story, a full mariachi band plays inside the beach house, while friends and family stand around and watch. North, in her pajamas and wearing glitter covered fairy wings, excitedly dances around the mariachi band, as they play.
In one snap, North dances in circles around Kim and Kim claps her hands in enthusiasm for her young daughter. In another, North runs back and forth in front of the mariachi band. "Someone had to get up and dance," Kim says from behind the camera. "She doesn't take after me." If she doesn't take after Kim, then she must take after dad Kanye — who is known for his sometimes fun and sometimes unpredictable behavior.
It only seems right that North West would be the one person to get up and dance — she was, after all, spotted by photographers leaving dance class multiple times throughout 2015. Maybe on vacation she was putting all of her hard earned knowledge to good use?
Or maybe making music like her father, is more of North West's speed. In other snaps from the night in Kim's story, North plays the violin with help from one of the band's members. In the snaps, she takes the violin's bow and moves it back and forth to create some — er, interesting sounding music. Kim, however, is incredibly supportive like every great mother. "Your violin lessons are paying off," Kim tells North from behind the camera.
The videos taken of North are absolutely adorable. North looks like quite the character and I can not wait for more snaps from Kim of her daughter. And who knows? Maybe these videos are an early indication that North is bound for the entertainment industry — whether it's as a world class violin player, a classically trained dancer, or even both.