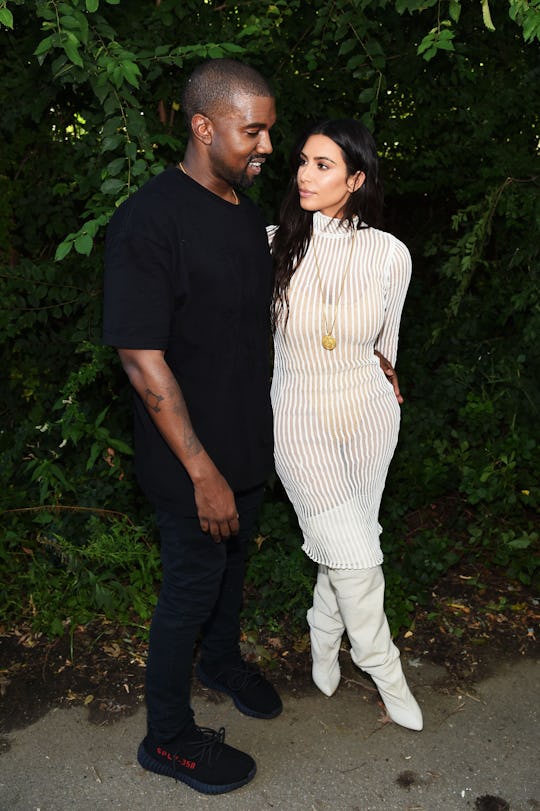 Jamie McCarthy/Getty Images Entertainment/Getty Images
Kim & Kanye's Surrogate Had No Idea She'd Be Pregnant With Their Child At First For This Reason
There's always news coming out of the KarJenner camp and today is no exception. You probably already heard that Kim Kardashian and Kanye West are expecting their third baby together via surrogate. What you may not have heard is that Kardashian's surrogate didn't know whose baby she was carrying at first. Kardashian chose to keep it anonymous for a while before revealing her identity for a very good reason.
Kardashian confirmed the rumors about baby number three back in September, and the details about the arrangement were far and few between. But recently, Kardashian shared some background on the experience with the surrogate. During an appearance on The Real, she told the panel that for the first few weeks of the pregnancy, the surrogate mom didn't know that she was carrying Kardashian and West's child. And as it turns out, Kardashian could have kept it a secret for the entire pregnancy, but she chose not to. According to People, she told The Real:
She didn't know at the beginning. She didn't know. You could do it totally anonymously. You could go that route. And I just felt like, whoever is carrying my baby, what if they weren't a fan of me or my husband? What if they didn't want to be carrying our baby? I wanted to give them that choice, and be proud and on the same page. I wanted a relationship with her.
In the end, she decided that it was best to share her identity with the woman carrying her and West's baby and see how it played out. Fortunately, it was great news to the surrogate, who is a fan (but not a super-fan) of Kardashian and was glad to be able to help give her family the child that they wanted. She was familiar enough with Keeping Up With The Kardashians to know about Kardashian's struggles with her past two pregnancies with 4-year-old North and 2-year-old Saint, as well as her need for a surrogate. During the same interview on The Real, Kardashian explained how the still-unnamed surrogate reacted to the news:
She was really excited. She was someone who had watched the show — not like a super fan, that it would have been uncomfortable, but she'd seen my struggle and seen how open I was about it, so she was really proud to do it.
In that same interview, Kardashian also dished on the reason her surrogate was left off of her fancy baby shower's guest list. It wasn't because she wasn't welcome, rather Kardashian had her children in mind. "Of course I would have wanted her to be there, and be a part of it, but I hadn't really gone that far in explaining it to my kids yet," she told the talk show hosts. "I think I have to explain it to my kids first, and figure out how I'm going to explain it to them … I just wanted to celebrate the baby."
She was sure to mention that there were no hard feelings between the two; in fact, it sounds like they are rather close. "I love her. I have the best relationship with my surrogate. She's so nice. She's the perfect person to do this for my family," she said in the same interview.
Kardashian has been rather loose lipped as of late, even accidentally revealing to Ellen DeGeneres that she is expecting a girl. Speculation that the baby is a girl began when Kardashian and her family posted photos of her very pink baby shower, but nothing was confirmed until the slip on The Ellen DeGeneres Show. The accidental reveal occurred when Kim was talking about the baby shower.
Although Kardashian has recently shared a lot about her surrogate and her new addition, the family's other rumored pregnancies — Kylie Jenner and Khloe Kardashian are both allegedly pregnant, but neither have addressed the rumors — have fans scrambling for details. But, Kardashian seems to be an open book lately. And considering the emotional strain that can come from surrogacy, it is great to know that Kardashian is happy to share some of these details with her fans and, of course, that she and her surrogate get along so well.
Check out Romper's new video series, Romper's Doula Diaries:
Watch full episodes of Romper's Doula Diaries on Facebook Watch.