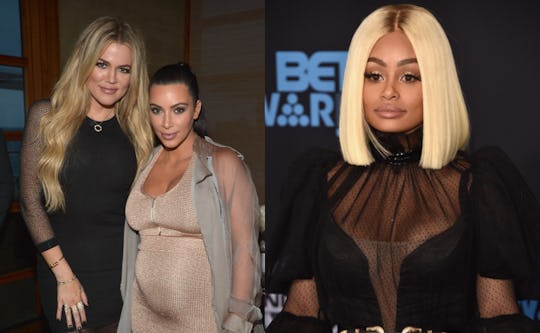 Charley Gallay/Getty Images Entertainment/Getty Images, Alberto E. Rodriguez/Getty Images Entertainment/Getty Images
Khloé & Kim Kardashian *Finally* Break Their Silence On The Blac Chyna & Rob Kardashian Drama
Another day, another bit of Kardashian gossip to share. But the latest in Kardashian family drama actually has more to do with one of the family members who isn't currently pregnant or possibly expecting a baby. In a new teaser trailer for this weekend's episode of Keeping Up With The Kardashians, Khloé and Kim discussed their brother Rob's social media attacks against his ex, Blac Chyna. It's the first time they seem to have commented on the situation, and as the Kardashians break their silence about Blac Chyna and that whole situation, some of them seem to have different views of it.
In a preview for the episode scheduled for Sunday, Kim and Khloé sat down to discuss their brother's legal battle with his ex-fiancée, which Khloé reportedly called "super frustrating," according to People. In a testimonial, Khloé said, according to Buzzfeed:
Rob and Chyna have officially broken up, but they obviously have to communicate for the custody of Dream. But they're still having a hard time getting along. The legal battle that has been going on between the two of them has been super frustrating. I feel like this is escalating to a place that none of us could have imagined.
And a lot of families can probably relate to how difficult it is when a couple in the family breaks up, especially when there's a child involved.
To recap, Rob and Blac Chyna have a daughter, Dream, together, and they're dealing with an intense legal battle after Rob shared explicit photos of his ex on his Instagram account. When he posted them, he likely violated the revenge porn law in California, according to The Huffington Post. After the "Instagram meltdown," Chyna worked to obtain a restraining order against Rob, and the postings also impacted the couple's custody battle over their child.
Rob and Chyna eventually agreed to joint custody, but the legal battle Khloé referred to still rages on, because they've fought in court over allegations of domestic abuse, vandalism and extortion, The Huffington Post reported.
In the clip, Kim seemed to side with Chyna, and said that she "went off" on Rob in a group text over the situation. She said, according to People:
The negative is just that like, as Rob having sisters, he should just know better. He should have just like, controlled himself.
And while Khloé did agree with that, she also defended her brother. In the clip, Khloé went on to say:
It just sucks. He's made out to be this bad guy when she's taunting him. Love makes you do f*cked up things. Do you think anyone's proud of that? No. You don't f*ck with someone's heart and emotions.
And while some may feel that it's hard to relate to the Kardashians and their world of fame and fortune, one thing a lot of regular, everyday families and parents can probably relate to is how tough a breakup in the family and a rough custody battle can be.
It's not exactly a secret that child custody battles can have a negative impact on the kids involved. But sometimes, they're not exactly a walk in the park for the rest of the family either. Especially if members of the family get attached to either of the partners — break-ups and divorce can definitely impact the friendships and relationships of everyone involved.
No matter what you think of the Kardashians, it's not easy for anyone to deal with the sort of legal issues that arose because of the Rob/Chyna situation. For example, Kris Jenner probably wants to be able to see her granddaughter, and depending on how her son and his ex handle the situation, that could get easier or more difficult over time.
There's still a child at the center of all of this drama, and that's really unfortunate. Hopefully, no matter who each Kardashian or Jenner sides with, and how "super frustrating" the whole thing may be, the family can still have a happy, healthy relationship with Dream in the end.
Check out Romper's new video series, Romper's Doula Diaries:
Watch full episodes of Romper's Doula Diaries on Facebook Watch.