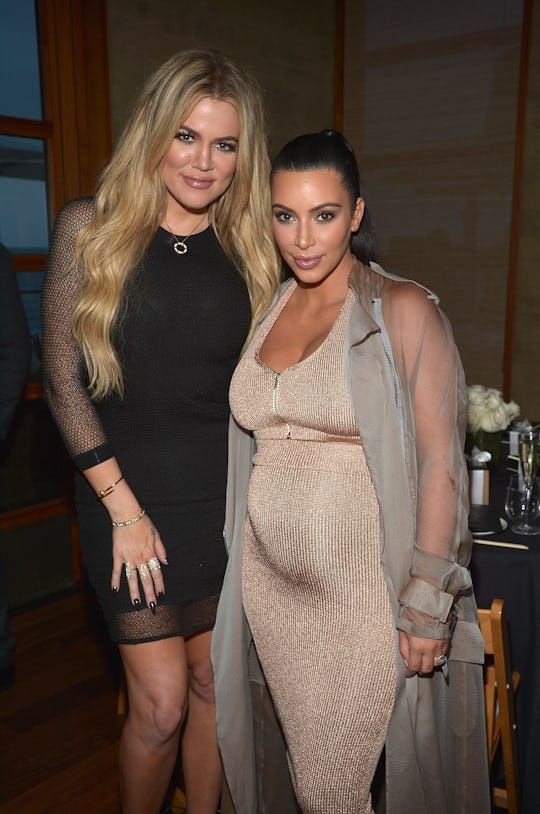 Charley Gallay/Getty Images Entertainment/Getty Images
Kim & Khloe Kardashian's Daughters Had The Cutest Cousin Play Date In Bali
The Kardashian siblings live such glamorous lives — and now, their young children are reaping the benefits from it. From their outfits, to their parties, to their playdates, the newest Kardashian grandchildren are living large. So, it makes sense that Kim and Khloé Kardashian's kids had a play date in Bali — because they do their play dates extravagantly, too.
Kim, Khloé, and Kourtney Kardashian recently spent a week on a family vacation in Bali, Indonesia, according to E! News. While they were there, the sisters "engaged in local culture," hung out on the beach, and spent some much welcomed family time together, which involved a lot of relaxing. But all of their children also got some much needed family time, too — they traveled along with their moms for their gorgeous vacation, according to People.
Kourtney's daughter, Penelope, and Kim's oldest daughter, North, enjoyed hanging out on a boat together, according to People. But no one looked more pleased to have some quality family time than Kim's youngest daughter, Chicago, who got to hang out with her cousin (and Khloé's daughter), True Thompson, in Bali.
In the photo, shared to Kim's Instagram account on Sunday afternoon, Chicago can be seen sitting next to True in the exotic locale, with the biggest smiles on both of their faces. "Besties in Bali," Kim captioned the photo.
As if their life could not be any sweeter, they get to have their cousin play dates in Bali of all places. It's enough to be super envious of. But who wouldn't be jealous of the eight-month-old and six-month-old who get to hang out in the crystal blue waters of Bali? Even the sisters' friends and family members cannot get over how adorable Chicago and True are — taking to the comments of the photo to share their thoughts.
"I miss them," Kylie Jenner (who did not make the trip to Bali) commented on the photo.
"Chi and True out here living better than we ever will be," another commenter added.
"I can't handle this level of cute," one commenter perfectly stated.
And they're so right. Chicago and True are living such good lives while being the cutest cousins around. And for Khloé, this trip to Bali with True was more than just a trip for adorable photo opportunities — it was exactly what she needed to recharge. "Bali is bliss!," Khloé tweeted on Saturday. "Peaceful and so beautiful!! I feel so fortunate that I was able to go with baby True."
It would make sense why Chicago and True would be so close (and it's not because they were born months apart) — Khloé and Kim are especially close, too, according to People. In an episode during this season of Keeping Up With The Kardashians, Khloé revealed that she picked Kim to be True's godparent for some very touching reasons. Khloé said, during the episode:
I feel like Kim has been so selfless during my pregnancy. She's trying to just help make sure that you feel your best, look your best, have the best. She's so secure in her life that I feel like she would be an incredible godparent. She's been a great friend and sister.
And now that True is six months old, she has been surrounded by her incredible cousins. Together they've had cupcake parties, photoshoots, and even attend baby class as a group, according to People — and now the cousins can add "travel the world together" on their list of accomplishments.
Thanks to their young age, they will have plenty of time to do so much more traveling with one another. But these memories they're creating now will make those future trips so much sweeter.