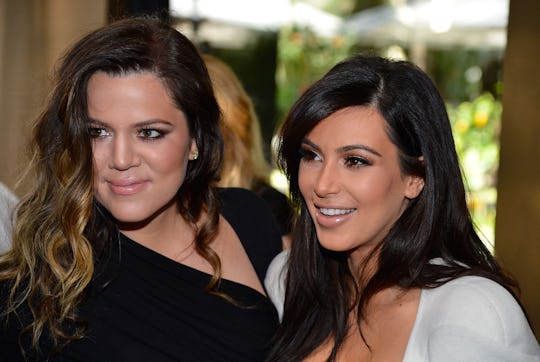 Frazer Harrison/Getty Images Entertainment/Getty Images
Kim & Khloe Kardashians' Pregnancies Help Destigmatize Fertility Struggles
There is a lot to be said about the slew of Kardashian pregnancy reports that have popped up in the past few months, and those should all be good things. It was announced last month that Kim Kardashian was expecting her third child, reportedly via surrogate, and that both younger sisters, Khloe Kardashian and Kylie Jenner are reportedly expecting their first children as well. For too long, the Kardashians have been shamed for their careers, outfits, and who they choose to hang out with. But they shouldn't be shamed for getting pregnant. In fact, Kim and Khloe's pregnancies help destigmatize fertility struggles, showing women everywhere that where there is a will, there is a way.
Both Kim and Khloe have been honest about their struggles with fertility, airing all of their secrets and struggles in front of the Keeping Up With The Kardashians cameras. The show has been on for the past 10 years and has documented every up and down of their lives — from their marriages, to heartbreak, and everything in between. This includes their attempts (both successful and not) to get pregnant.
Fertility struggles can happen to everyone. In fact, 10 percent of women in the United States, or 6.1 million say they have trouble getting pregnant or staying pregnant, according to the Office on Women's Health. There are so many unpredictable variables that influence a woman getting pregnant, and there are many that are beyond their control. But no one should ever have to feel singled out because everyone is getting pregnant around them. The Kardashian women serve as a reminder that everyone, including celebrities, go through these struggles, too.
Kim's Decision To Use A Surrogate
Kim has had two natural pregnancies of her own, giving birth to daughter North and son Saint with husband Kanye West. But neither of those pregnancies were easy for Kim. In a blog post, Kim elaborated on how she had preeclampsia while pregnant with North, which caused her to give birth six weeks early. After giving birth, Kim had found out that she developed placenta accreta, which caused her placenta to grow into her uterus wall. During her second pregnancy with her son, according to Entertainment Tonight, Kim developed placenta accreta for the second time and delivered Saint a few weeks early. During an episode of KUWTK in April, Kim underwent surgery to repair her uterus and learned that she could not get pregnant again, according to E! News. It was during this episode when she optioned having a surrogate for the first time. Kim said, according to E! News:
After talking to Kanye, I think that I always knew that surrogacy was an option, but I didn't think it was that realistic of an option. Now, I feel like that's my reality. I feel surrogacy is really the only other option for me.
In June, it was reported that Kim and West had reportedly hired a surrogate. Then, early last month, People confirmed that Kim was expecting her third child with a surrogate, and Kim confirmed the news herself a few weeks later, although she has yet to address whether she is in fact using a surrogate.
While the decision for Kim to use a surrogate for her third pregnancy was hard, it could have been helpful in opening the eyes of women who had given birth and hadn't about using a surrogate. No official figures exist for surrogacy, according to NPR, due to a "patchwork" of state-to-state regulations governing it. But experts believe an estimated 1,000 American children are born to surrogate mothers each year. According to USA Today, most women choose to become surrogates out of the goodness of their own hearts — they just want to help.
And women, struggling from infertility or uncertainty choose to use a surrogate for multiple reasons — from health conditions to difficult pregnancies in the past. Kim's choice to reportedly use a surrogate brings light to the fact that there are other options when it comes to expanding your family and that pregnancy isn't one size fits all.
Khloe Kardashian's Struggles With Infertility
In late September, it was reported that Khloe was expecting her first child with boyfriend basketball player Tristan Thompson, according to People. (Romper has reached out to Kardashian's representative for comment, but has not heard back at this time.) But her journey to getting pregnant wasn't exactly the smoothest, either.
KUWTK cameras caught Khloe last April when she went for a "reproductive evaluation" and she revealed that she "fake tried" to get pregnant with her ex-husband, Lamar Odom, according to Us Weekly. But the visit to the fertility doctor revealed that her follicle count was "a little low" (although she later stated in the episode she was fine). Although in the past, Khloe had been open about how hard it was for her to get pregnant stating that she "never knew" of all of the difficulties associated with getting pregnant, according to HuffPost and that her hormones were "off," according to Perez Hilton.
Kim and Khloe have set a great example for women everywhere with their honesty about kids and pregnancies. No one is alone in the struggles — and these KUWTK stars prove just that.
Watch Romper's new video series, Romper's Doula Diaries:
Check out the entire Romper's Doula Diaries series and other videos on Facebook and the Bustle app across Apple TV, Roku, and Amazon Fire TV.