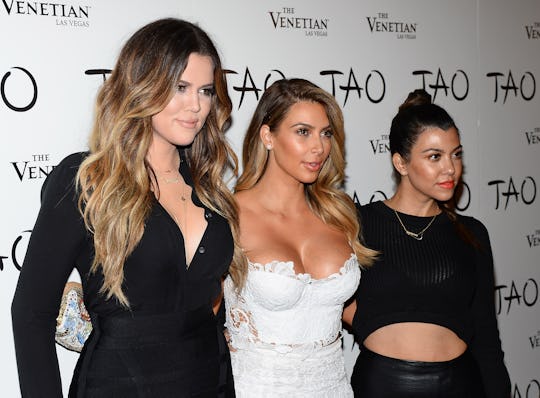 Ethan Miller/Getty Images Entertainment/Getty Images
The Kardashians Have An "Eye-Opening" Visit At Planned Parenthood & Twitter Loves Them For It
Everyone knows that the Kardashian sisters are amazing at self promotion. But now, they're using their powers to raise awareness about a critical issue — women's health. On Sunday, an episode of Keeping Up with the Kardashians turned political when Kim, Kourtney, and Khloé Kardashian went to Planned Parenthood. The health provider has been under attack in recent years, so the famous sisters spreading the word about its life-saving services is extremely important, if a little unexpected. Hey, if a reality star can become the president, maybe the Kardashians can save reproductive health care.
In the episode, Kim, Kourtney, and Khloé visited a Planned Parenthood clinic, and talked with some of the women who had benefitted from its services. As a reminder, Planned Parenthood provides "sexual and reproductive health care to 2.4 million women, men, and young people around the country each year," according to a Planned Parenthood press release.
Those services include abortions, yes (hence much of the current controversy surrounding the organization), but also cancer screenings, STD testing, birth control, and more. And although the abortion narrative tends to dominate the news, according Planned Parenthood, abortions only make up 3 percent of the services it provides.
The Kardashians professed a certain amount of surprise as they learned about everything that Planned Parenthood does, with Kim saying, according to People:
The perception of Planned Parenthood is that it's this like abortion clinic. That's nothing like what it's like. Hearing that firsthand really made it real for me.
In a clip from E! News, the Kardashians talked with a woman named Kelly, who told them the story of how, when she was in her early 20s, she and her boyfriend had unprotected sex. When they went to Planned Parenthood to get tested, they found out that they had both contracted HIV. But the health providers didn't just drop the news on them and then show them the door. As Kelly told the Kardashians:
Planned Parenthood, they were compassionate and understanding. They told me, "Your life isn't over, this is manageable, you can live a normal life with this." Planned Parenthood basically kept me alive.
By the end of the visit, the Kardashians were fully aboard the Planned Parenthood train, with Khloé telling the camera:
I'm a big fan of Planned Parenthood now. Meeting all the girls and hearing their stories and seeing how many women have been helped by some of the services they have to offer — I think people need to be more educated before they form opinions, and that's what I'm grateful that I had the opportunity to do today.
So why is this so important? Well, the Kardashians are some of the biggest stars on the planet, and all sorts of people watch their show. In today's exhausting political climate, it's tempting to lose oneself in the lighthearted promise of Keeping Up with the Kardashians instead of the depressing and seemingly never-ending Keeping Up with the Relentless Erosion Of Women's Rights. But ignoring the dangers that women's health care faces doesn't make those dangers go away.
Planned Parenthood is constantly on the verge of being defunded, and if that happens, millions could lose out on valuable health services. Unplanned births could go way up, it would likely become way harder for women to obtain abortions, and women like Kelly might have a much harder time both getting an STD diagnosis and learning how to live with her condition.
For vulnerable women (and men!), Planned Parenthood can be a lifesaver, and yet misperceptions about the organization abound. It's easy to form a quick opinion without knowing all the facts, or to wonder what all the "Save Planned Parenthood" fuss is about. But the Kardashians just made it harder for their fans to turn a blind eye.
Many on social media expressed their gratitude for the feature.
Kudos to the Kardashians for highlighting all the good work that Planned Parenthood does. This particular Keeping Up with the Kardashians episode could go a long way towards raising awareness at a time when it's desperately needed.
Watch Romper's new video series, Romper's Doula Diaries:
Check out the entire Romper's Doula Diaries series and other videos on Facebook and the Bustle app across Apple TV, Roku, and Amazon Fire TV.