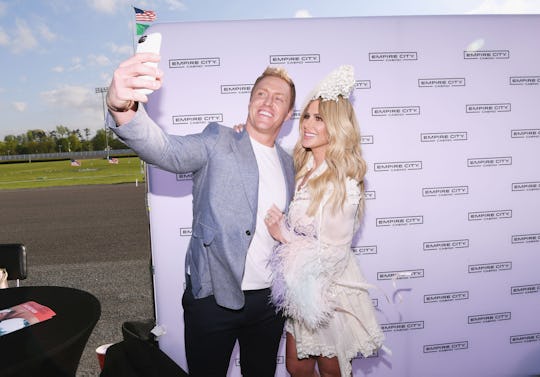 Dave Kotinsky/Getty Images Entertainment/Getty Images
Kim Zolciak-Biermann Gives Photo Update Of Son's Recovery
Sometimes we're reminded that life truly is precious, and that every moment matters. Accidents, hospitalizations, and traumatic events oftentimes bring the fragility of life to our attention, however unfortunate such events may be. It was only two weeks ago that Kim Zolciak-Biermann informed the world that her son, 4-year-old Kash, was involved in a horrific accident involving a dog bite. Since then, Zolciak-Biermann has kept followers updated on Kash's progress, sharing his amazing healing process. And now, Kim Zolciak-Biermann has shared another photo of Kash, thanking everyone for their prayers, and praising Kash's amazing team of doctors that helped him to get better.
In an Instagram post shared Tuesday afternoon, Zolciak-Biermann informed fans that Kash has made a near-complete recovery following his accident. Earlier posts indicated that Kash sustained severe injuries from the accident, resulting in surgery. And while Zolciak-Biermann has since posted photos and videos of Kash getting along with his siblings since he was discharged from the hospital, this latest post is the most detailed description Zolciak-Biermann has given of Kash's injuries, and the procedures he had to endure in order to heal.
Previously, Zolciak-Biermann informed fans that "the injuries sustained to his skin are healing up perfectly because of his amazing doctors, nurses, modern medicine, my homeopathic treatments his will and his positive attitude." And now, she's sharing a sweet photo of the little boy, showing how far he's come.
"Kash and our entire family want to Thank each and everyone of you for all your prayers!" Zolciak-Biermann wrote under her latest photo. "Kash has healed up incredibly and has perfect vision in his left eye. Stitches on his water line, and his eyeball was never touched! God is Good! We are so incredibly thankful and blessed! In no time he will heal up perfectly and you will never know this happened!"
Since the accident, Zolciak-Biermann has made sure to thank everyone for their prayers, and has also given major props to Kash's doctors, "Dr Joseph Williams (chief of plastic surgery) and Dr Berland (Tomas Eye Group)," for their skills and the amazing work they performed on little Kash.
Zolciak-Biermann shares Kash —along with 5-year-old Kroy Jagger "KJ", and 3-year old twins, Kaia Rose and Kane Ren — with her husband Kroy Biermann. The two also parent Zolciak-Biermann's two daughters from her previous marriage, Brielle Biermann and Ariana Biermann, whom Biermann adopted in 2013.
For now, it seems the entire family is grateful for Kash's recovery and likely spending some quality time together — as they should.