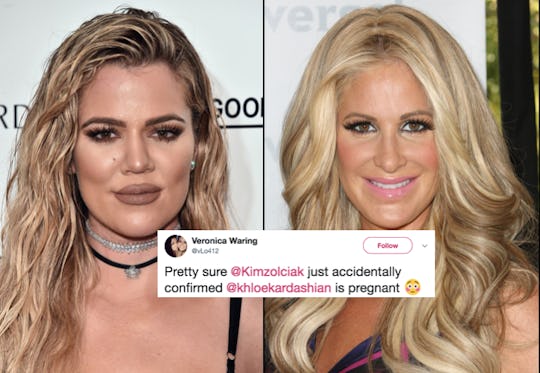 Alberto E. Rodriguez/Getty Images Entertainment/Getty Images & Frederick M. Brown/Getty Images Entertainment/Getty Images
Here's Why The Internet Thinks Kim Zolciak Just Confirmed Khloe Kardashian's Pregnancy
Remember how Snapchat used to promise the comfort that any potentially embarrassing photos or videos would quickly disappear without being seen by anyone other than their intended audience? Nowadays, celebrities seem to accidentally leak important secrets on the app all the time (*cough* Serena Williams' pregnancy *cough*), and now, it seems to have happened again. Real Housewives of Atlanta star Kim Zolciak may have confirmed Khloé Kardashian's pregnancy rumors, via a public, problematic Snapchat that appears to have been intended for Kardashian's eyes only, as CafeMom reported on Monday. Zolciak's representatives had no comment on the incident.
Back in September, multiple sources confirmed to People that 33-year-old Kardashian was expecting a baby with her boyfriend, Tristan Thompson. But Kardashian has yet to publicly confirm or deny the rumors. Romper has reached out to Kardashian's reps for comment, but has not heard back at this time.
In all likelihood, though, if she is pregnant, she's talking about it with her close friends and family, so Zolciak's recent Snapchat made fans sit up and take notice. In the now-deleted Snapchat — shared by @RealityEntertainmentTV on Instagram after it was taken down — Zolciak begins by saying:
I'm thankful that I don't have a f*cking sister because I'd be really pissed through all my pregnancies.
Then, Zolciak's 20-year-old daughter Brielle Biermann enters the video, and Zolciak says to her, "Show Khloé how big her t*ts are gonna be when...", encouraging Biermann to flash her breasts on the video, which she does.
Sure, the whole thing is a bit more cryptic than Zolciak saying, "Hey, my good friend Khloé Kardashian! You are pregnant! I am officially confirming it!" But Zolciak and Kardashian seem to be relatively close. They've hung out multiple times before, with Zolciak writing in an Instagram caption of one hangout that she "simply adored" Kardashian.
Add in the sister reference, and the talk about changing breasts, and taken all together, it's not hard to see how some people are assuming that this is the Kardashian pregnancy confirmation they've been waiting for:
If true, it's really unfortunate for Kardashian that her secret is being shared earlier than she wanted it to be, through what seems to be a technical snafu on Zolciak's part. But that's not the only thing to get upset about in this Snapchat.
It's disturbing, in the video, to watch a mother pressure her daughter into flashing her breasts for a social media post, particularly given how often nude celebrity photos get hacked. Biermann resists her mother's first request to "show Khloé," only giving a quick flash when Zolciak asks her a second time, while clearly under the impression that Kardashian would be the only one seeing the Snapchat that Zolciak then made public. Now, though, her breast is all over the internet.
It's not the first time that Zolciak has generated controversy when it comes to behavior with her daughter. She previously made headlines when she tweeted at Chrissy Teigen, asking with whom Biermann would have to... um, do a particular sex act in order for them to get tickets to a John Legend concert.
And as if all that weren't enough controversy for one quick Snapchat, the topic of sexual harassment in Hollywood then comes up, when Biermann says that Kardashian is going to sue them for sexual harassment "like everybody else in the world is right now," and Zolciak immediately responds, "Poor Ryan Seacrest." (Seacrest is currently under investigation after an allegation from a former stylist that he "behaved inappropriately" towards her, which he has disputed, according to Variety.)
It seems pretty safe to say that all parties involved probably wish that this Snapchat had just disappeared into the ether, like it was supposed to.
Check out Romper's new video series, Romper's Doula Diaries:
Watch full episodes of Romper's Doula Diaries on Facebook Watch.