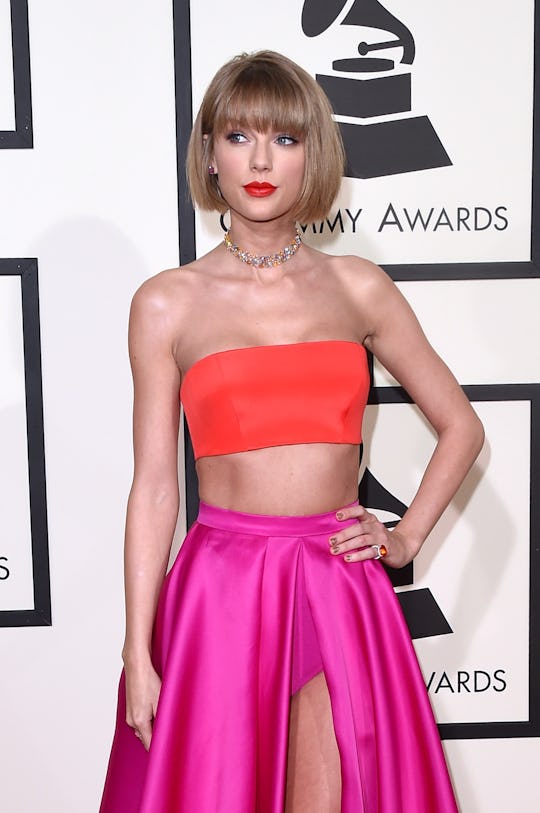 Jason Merritt/Getty Images for NARAS
Kimberly Schlapman's Grammys Dress Looked Just Like Taylor Swift's & It's Not All That Shocking
Taylor Swift's arrival at the 2016 Grammys was enough to shut the show down, but just when things were finally cooling off, Little Big Town hit the carpet and then it hit me: Kimberly Schlapman's Grammys dress looked just like Taylor Swift's. Obviously the pink and red combo was the trend of the night, and I'm not gonna lie, Schlapman looked stunning in her split-color one-shoulder dress. But to be totally fair: Swift and Schlapman aren't the first two stars to walk a red carpet and successfully pull off the pink-and-red combo without a hitch. Swift's top and full skirt was sexy, sophisticated, and entirely appropriate for the star. She's having the year of her life (OK, I realize you could say that for just about every year of Swift's life as of late) and moving into an entirely new space as an artist, shedding the cookie-cutter do-good attitude and owning her ability to be a top-selling artists, an in-demand entertainer, and a stunning woman coming into her own.
Alternatively, Schlapman's look also shows off sophistication and class — but it sends a quieter message than Swift's look. It's stunning and figure-flattering, and it hits all the right notes for the red carpet — it's bright and inviting and happy and charming — but the main difference is that it isn't as in-your-face as Taylor's look (and that's not a judgment on her Taylor's dress, either). Schlapman's every move isn't as high-profile as Swift's, so it makes sense sense that she'd need to have less of an "I'm here" moment that Swift would. Of course now her arrival was probably one of the most surprising of the night, given that she and Taylor were practically matching.
Here's Schlapman's look:
And, for good measure, here's Taylor's:
Now, here's the thing: Even though it's shocking and surprising that they'd both show up wearing similar looks, it's not entirely that shocking that they'd come to the show wearing something similar. As famous as Taylor is, she doesn't have a monopoly on who can wear what to what award show (and TBH, she doesn't seem like the kind of person who'd ever say who could do or couldn't do something), so she can't really stop anyone from wearing anything they want.