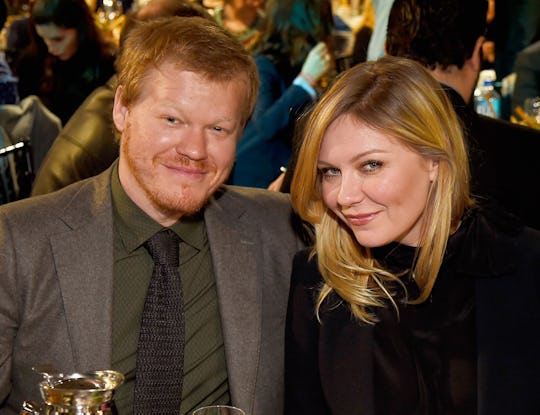 Matt Winkelmeyer/Getty Images Entertainment/Getty Images
Kirsten Dunst Gives Birth To Her First Child With Jesse Plemons, & It's Super Exciting
Nothing makes me more proud to be a '90s baby than when my favorite childhood stars have babies. Giving me serious Bring It On! flashbacks, Kirsten Dunst reportedly gave birth to her first child with Jesse Plemons, sources told People, and the news is so welcome. Dunst has spoken up in the past about her desire to become a mother and now fans have the opportunity to celebrate with her.
After giving birth over the weekend, Dunst is likely busy getting the hang of new motherhood. In the mean time, the unnamed source is sharing some info with her many fans and reportedly told People that Dunst and fiancé Plemons now have "a healthy baby boy," and "Everyone is doing great."
Dunst first confirmed rumors of her pregnancy in early February, sharing her big news in the Fall 2018 edition of the Rodarte lookbook, titled Women Who Inspire Us, according to Hello! Magazine. The fashion label is owned by her best friends and sister designers Laura and Kate Mulleavy, making it the perfect platform to celebrate their friend's coming addition. The photos of Dunst in stunning maternity wear were posted to the official Rodarte Instagram page and fans were quick to share their congratulations. "Beautiful gown and beautiful maternity photo!! Congratulations @kirstendunst!!" wrote one fan. "Tastefully done! Beautiful Mom carrying a beautiful baby," said another.
Since the shoot, Dunst has commented on her excitement over becoming a mom. She told Marie Claire U.K. last June that she had babies on the brain, saying, "I'm at a stage in my life where I'm like, 'I've been working since I was 3. It's time to have babies and chill,'" she said at the time. She went on to add that it was becoming a godmother that made her want to be a mom in her own right:
I wasn't one of those 'I need a baby!' people until my goddaughter was born. I love her so much. That love is just like … you can't experience that unless you have a kid.
I felt the same way after my niece made her appearance in the world, so her sudden onset of baby fever is totally understandable.
"Mom" isn't the only new title that Dunst will be taking on, though. She is also busy planning her wedding to Plemons, although she has stated that she is "not in any rush," to become a wife according to People, and the two of them are taking it "somewhat slow," as they are "pretty chill," as she told E! News last year. She and Plemons began dating after they met on their shared set of the second season of the Fargo television series, in which they played husband and wife, according to E! News.
They kept the details of their real-life relationship under wraps, and Dunst told Jimmy Fallon during an appearance on The Tonight Show Starring Jimmy Fallon, as E! News reported, that it was a blessing to have that time to themselves. "I've got to keep things private a little bit. We got together a year after [meeting.] We became really good friends first," she said. She went on to explain that she fell for him naturally "You're like, 'Oh, I really love this person. I love hanging out with him," she said.
Their slow but steady approach to wedding planning doesn't mean that the couple isn't planning, though. People reported that Dunst told Kelly Ripa and Ryan Seacrest that Pinterest has been her wedding planner and she and Plemons have a shared board for their wedding:
It's really fun, and because we create it together from the beginning, it's a really nice thing to do together. It's going to be so personal and fun. We're having a really good time.
Between bringing home her baby boy and preparing to marry the man she loves, it sounds like Dunst is living the dream. Congratulations to the happy family!