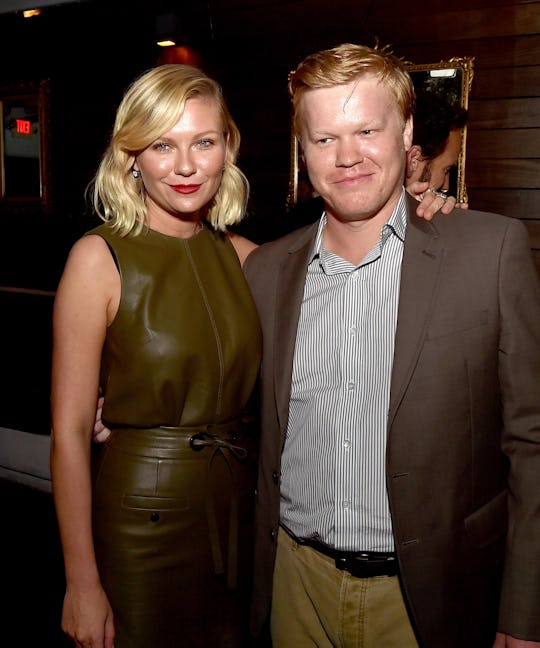 Kevin Winter/Getty Images Entertainment/Getty Images
Kirsten Dunst Is Reportedly Expecting Her First Child With Fiancé Jesse Plemons
On Wednesday morning, Bring It On fans received some pretty exciting news: a source told Us Weekly that Kirsten Dunst is expecting her first child with fiancé Jesse Plemons. Details are scant, but Us reported that Dunst might've been "in baby mode" after a few of her close friends became pregnant. I'm not exactly sure that's how it works... but it's exciting news nonetheless. (Reps for Dunst and Plemons did not immediately respond to Romper's request for comment.)
Now, in 2014 Dunst did tell Red magazine that she had some plans to have a baby soon: "I think 33 is a good age to have your first baby," she said, according to Us. And that's not the only thing Dunst has said recently about having kids. In an interview for the July 2017 issue of Marie Claire, Dunst said "it's time to have babies and chill," in regards to her career and life plans. I'm not exactly sure I would personally put "babies" and "chill" in the same sentence together, but more power to her. Dunst said she wasn't always someone who was certain babies were in her life plan, according to Marie Claire:
I wasn't one of those 'I need a baby!' people until my goddaughter was born. I love her so much. That love is just, like, you can't experience that unless you have a kid. I put her to bed last night, and she woke up this morning and said to her mom, 'Where's Kiki?' I just love that love. That's what I want."
In the same interview, Dunst discussed her wedding, which is reportedly happening in April, and described her fiancé as her best friend and "my favorite actor I've ever worked with." D'oh. And Plemons has just as many heartwarming, adorable things to say about Dunst. He stared in The Bell Jar, which was the first film Dunst directed, but he said he wasn't nervous about it at all, according to Page Six:
I was so inspired by her when we worked together on 'Fargo.' We have the same taste and sensibility. She's really smart and good at what she does. I'm sure I had plenty of bad ideas when we were doing 'Fargo' that she was able to talk me out of. ... I would work with Kirsten anytime.
Though Dunst and Plemons have worked together on other projects, like Friday Night Lights (Plemons played Landry), it was during Season 2 of Fargo, when they played high school sweethearts, that the two reportedly got together, Us Weekly reported. After Us reported that the two were seen kissing in public in May 2016, official speculation that they were dating began, and then multiple outlets reported in January 2017 that the two were engaged.
Dunst said of their engagement while on The Tonight Show in June 2017, according to Brides:
I was a little sick when he did it, which was funny. But that's good — in sickness and in health, you know. That works, right? I was in sweats.
I mean, honestly, is there any better way to have someone propose to you? When you're sick, in sweats, they didn't spend money on a fancy dinner or anything — IMO, that's when you know. And though the engagement wasn't super fancy, Dunst said in September while on Live with Kelly & Ryan that she has really gotten into wedding planning, according to Glamour:
I never thought I was that person who'd have a Pinterest board. I like doing all of the pinning things. It's really fun, and because we create it together from the beginning, it's a really nice thing to do together. It's going to be so personal and fun. We're having a really good time.
Though details on the reported pregnancy are scant so far, there's no doubt the couple is excited, especially given Dunst's past comments about wanting to have a baby. Assuming Dunst is near the three-month mark of her pregnancy (which is when pregnant people can start telling their friends, usually), that would put her due date somewhere around June or July 2018. Fingers' crossed they share some more deets soon.
Check out Romper's new video series, Romper's Doula Diaries:
Watch full episodes of Romper's Doula Diaries on Facebook Watch.