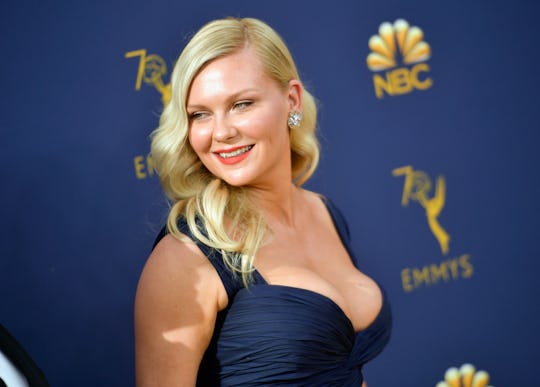 Matt Winkelmeyer/Getty Images Entertainment/Getty Images
Kirsten Dunst Makes Her Postpartum Debut At The 2018 Emmys & She Looks Amazing
While plenty of celebrities are traipsing across the stage of the 2018 Emmy Awards to present or accept an award, even more can be glimpsed for brief moments in the star-studded audience or on the red carpet. Kirsten Dunst made her postpartum debut at the Emmys four months after giving birth to her son, and some fans on Twitter were thrilled to see her.
Dunst and her fiancé Jesse Plemons welcomed their son Ennis Howard Plemons on May 3, 2018, according to People. Dunst wasn't a nominee in any of the categories at the Emmys; she attended to support Plemons, who was nominated for Outstanding Lead Actor in a Limited Series or Movie for his role in the Black Mirror episode "USS Callister." But both Dunst and Plemons were nominated back in 2016 for their roles in Fargo, the FX series where they first met.
Dunst announced her pregnancy three months before Ennis' arrival in a indirect way: she didn't do so with a tweet or a statement, but by taking part in a Fall/Winter portrait series by Rodarte. The brand was founded by her close friends Laura and Kate Mulleavy, whom Dunst also worked with in the film Woodshock.
Though Dunst and Plemons may have been caught by the paparazzi before now, this is the couple's first official appearance since Ennis was born.
While some fans on Twitter were surprised to see that Dunst and Plemons were together at all (they might have missed that season of Fargo), others were excited to see Dunst and root for Plemons during the ceremony. Though it seems like Dunst hasn't commented on her pregnancy or son in an interview, she did express her eagerness for motherhood while speaking with Marie Claire U.K. in June 2017.
Dunst said that after starting her acting career at age 3, she felt it was "time to have babies and chill." She continued:
I wasn't one of those "I need a baby!" people until my goddaughter was born. I love her so much. That love is just like... you can't experience that unless you have a kid. I put her to bed last night and she woke up this morning and said to her mom, "Where's Kiki?" I just love that love. That's what I want.
Dunst seems to be enjoying her time as a new mom privately, though it doesn't look like she'll be taking much of a break from acting. She had a cameo in the same Emmy-nominated episode of Black Mirror as Plemons, and was also in an episode of Drunk History where she played famous mystery author Agatha Christie. Next, she'll be starring in the YouTube Premium series How to Be a God in Central Florida. Variety reported that the show would debut some time in 2019.
This may be Dunst's first public appearance since her son Ennis' arrival, but more might follow in the future. Dunst and Plemons aren't strangers to award shows, so fans should expect to see them again soon enough.