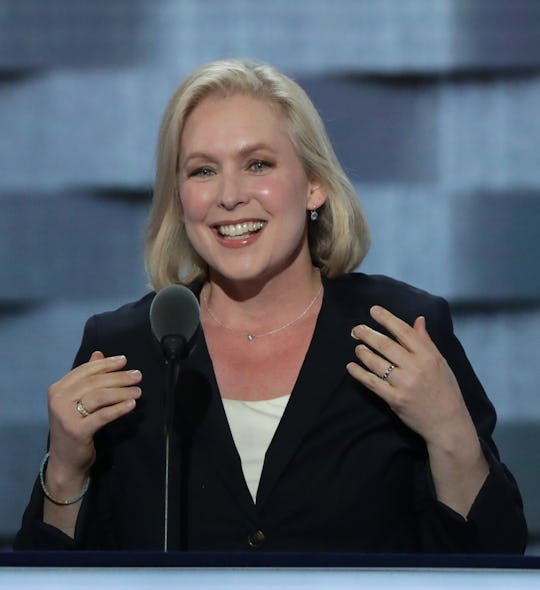 Alex Wong/Getty Images News/Getty Images
Gillibrand Demands Progress In Marine Photo Case
The news of a Facebook group in which Marines shared unauthorized photos of their female colleagues has been met with outrage, but unfortunately, not shock, as the mistreatment of women in the military is nothing new. Watching New York Sen. Kirsten Gillibrand tear into a Marine commandant over the nude photo scandal at a hearing on Tuesday will fill viewers with righteous indignation over an issue that's been ignored for far too long. Gillibrand grilled Gen. Robert Neller, asking him, "Who has been held responsible? Have you actually investigated and found guilty anybody? If we can't crack Facebook, how are we supposed to be able to confront Russian aggression and cyber hacking throughout our military?"
Neller did not immediately respond to Romper's request for comment.
It's a fair point, given that cyber crimes are believed to have played a large role in the 2016 presidential election; many blame Russian hackers for helping to install President Donald Trump in the White House. It certainly doesn't bode well for future elections if military intelligence can't figure out who's to blame for sharing nude photos on Facebook, a website that knows what school users attended, what they've purchased online, and where their grandmothers live. It only took a month for the FBI to crack the celebrity nude photo case; shouldn't women who risk their lives for their country be afforded the same courtesy?
Neller addressed female Marines in a statement to the Senate, asking them to "trust me personally as your commandant" in his efforts to "correct this stain on our Marine Corps," but that wasn't good enough for Gillibrand, who demanded to know, "Who's been held accountable for doing nothing since 2013? Who? Which commander?" Gillibrand was referencing a letter written by California Rep. Jackie Speier in early 2013 that was sent to then-Defense Secretary Chuck Hagel, then-Marine Commandant James Amos, and then-Inspector General Lynne Halbrooks calling for a response to a number of Facebook pages denigrating women in the Marine Corps, some of which, like the new group in question, contained rape threats.
Around the same time, Speier introduced three separate bills aimed at curbing sexual harassment and assault in the military: H.R. 1593, the STOP Act, H.R. 1079, the Military Judicial Reform Act, and H.R. 430, the Protect Our Military Trainees Act. All three were referred to the House Subcommittee on Military Personnel, and have sat ignored since that time. Gillibrand, too, has been calling for military justice reform for years, specifically in regards to its historically abysmal handling of sexual assault. Neller, who assumed his command in 2015, told Gillibrand, "I'm responsible. I'm the commandant. I own this." But Gillibrand doesn't just want him to own it — she wants him to end it. Time will tell if he can get the job done.