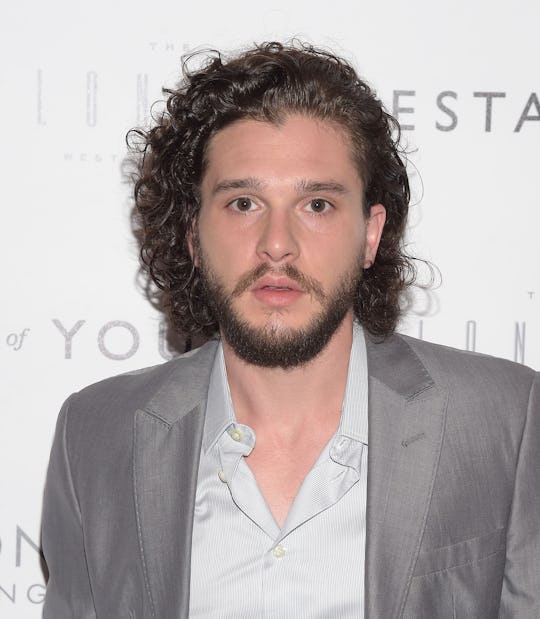 Jason Kempin/Getty Images Entertainment/Getty Images
Kit Harington Says 'Sorry' For Lying To Fans About Jon Snow & We All Obviously Forgive Him
Just as fans seemed to be getting over the fact that Game of Thrones' Jon Snow wouldn't be returning for this season, it turns out that the show-runners, actors, and even the one of the biggest entertainment magazines ever, are all just a bunch of flaming-pants liars. Yes, you read that correctly, Jon Snow's death at the end of Season 5 was all just a bunch of straight up lies, lies, lies. Kit Harington, who plays Jon, said "sorry" for lying to fans about Jon's "death" (by murderous traitors) and the fact that the character would be making a crazy return this weekend in an interview on Monday. But in the immortal words of Justin Bieber, is it too late to say sorry?
Apparently not. Fans of the show took to Twitter after Entertainment Weekly ran an exclusive cover story documenting the year-long ruse and didn't seem to mind one bit. "Yay! Jon Snow is alive!" tweeted one user, party hat emoji included, which pretty much summed up the feelings of most GoT diehards. Whatever ill-will everyone felt toward the GoT crew for killing off a fan-favorite in such a brutal way was, clearly, quickly forgotten once Jon popped up off that table on Sunday night. Still, Harington wanted to make amends anyway, even if he didn't really need to.
"I'd like to say sorry for lying to everyone," Harington told EW on Monday. "I'm glad that people were upset that he died." Harington said that his biggest fear was that no one would care that he was gone, but fans' grief at his departure showed him that he, "or the show," was doing something right.
We have all been played. Do you see that tagline on the cover of this week's issue? "Two year plan" to kill Jon Snow and fool the masses into believing he was dead. Two years is a long time. According to a post preceding the episode on Sunday, EW admitted that they've been privy to this knowledge all along. "For months" they've been working on a "top secret cover story" documenting this whole charade, the outlet wrote.
For months? They got us all. Just in late March, the magazine published interviews with cast members about how they answer the "is Jon Snow really dead?" questions from fans and press. They all seemed pretty convincing. Nice work, guys. Very convincing.
They even took the lie so far as to instruct Harington to play the role of an actor out of an HBO gig when talking to the press or going about town, according to the post teasing the release of the exclusive scoop. And not only is Harington back on the show, his character, who was brought back to life by the sorceress Melisandre on Sunday night's episode, has a "major" storyline this season.
"It's a massive season for him, it's the biggest season for him so far, he features very prominently this season," Harington told EW. Does anyone else feel duped about this major reveal? Game of Thrones just punked everyone and all anyone can do is tweet their joy and various happy emoji to show it. Am I the only one who feels like Justin Timberlake on Punk'd? HBO just did that to us and we're all taking it in stride. No big deal.
We've all been had. But we're happy to have you back, Lord Commander. Just don't do it again, because seriously, I don't know if I can handle the Twitter timelines on Sunday nights anymore.