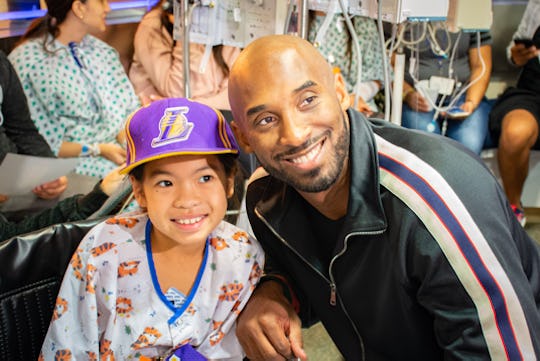 CHOC Children's
Kobe Bryant's Visit To The Children's Hospital of Orange County Will Make You Melt
There's just something about professional athletes visiting children's hospitals that always gets me. Maybe it's the fact that they're choosing to spend what little free time they have to lift the spirits of sick kids. Perhaps it's the pure size disparity between a typical NBA player and a child. Or maybe it's the look on kids' faces when they unexpectedly get to meet sports icons face-to-face. Whatever it is that makes the experience so awesome from the outside looking in, I simply cannot get enough. And Kobe Bryant's surprise visit to The Children's Hospital of Orange County will make you melt.
According to The Orange County Register, the retired Los Angeles Lakers NBA player dropped in for a visit on Monday, Sept. 24 — and with him he brought the cast of his Granity Studios' number one kids/family Apple podcast, "The Punies." For those who aren't familiar with the podcast, (which is directed by Bryant), it centers around an anxious character named Puny Pete who wants to join his friends in athletic activities, but worries he'll embarrass/hurt himself in the process. The 15-minute, family-friendly podcast, essentially, is about overcoming self doubt — which, believe it or not, Bryant has personal experience with, according to People.
On Monday, young patients at CHOC — some bald, in wheelchairs, or hooked up to IVs — had the opportunity to sit in on a live reading of an upcoming episode of "The Punies," according to a news release. Bryant sat alongside the six voice actors (and one special CHOC patient/guest, Sydney Sigafus) as they read through the script. Afterward, Bryant made it a point to stop by hospital rooms to make personal visits with patients who were unable to join the group in the CHOC recording studio. There, he signed autographs and spent time with the families for photos.
Following his surprise visit to CHOC, Bryant took to Twitter to share about his experience there. "Today I had the opportunity to spend time with some incredible kids at @chocchildrens & do a live table read with the cast of #ThePunies & our very special guest Sydney," he tweeted. "Thank you to the amazing staff & inspiring, strong kids I met today — you inspire me to create these stories."
As People reported, "The Punies" premiered on Apple's Podcast app, Google Play, and Spotify (among other streaming platforms) on Aug. 25. Bryant — who has three daughters, Natalia, 15, Gianna, 12, and Bianka, 20 months, according to ET Online — chose Saturday mornings for new episodes to be released because it's when many parents are driving their kids to sporting events. "I wanted to give parents something they can listen to during the drive because we certainly needed something to listen to, he told People. "We need something that's fun, something that gets the kids ready to play, but also keeps things light and fun, and has a message for them before they engage in competition."
Through Puny Pete's experiences, the podcast offers important life lessons — like how to respond to failure and how to work together as a team, according to People. Each episode features a different sport and is filled with humor, upbeat music, and even fake commercials. "If you're able to implant life lessons through humor, and through fantasy and fairytale," Bryant said, "then those tend to resonate a lot more [with children]."
So yeah. Not only did Kobe Bryant pretty much make kids' day at the Children's Hospital of Orange County on Monday, but he also shared a behind-the-scenes glimpse at his new podcast. (Which, by the way, I'm adding to me "definitely need to check out" list for my own kiddos.) And the smiles on the patients' faces pretty much says it all.