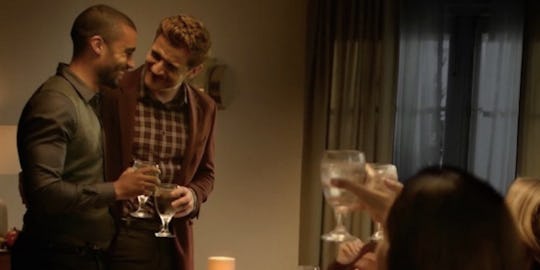 Kohl's/Twitter
Kohl's Released Adorable Ad Featuring Gay Couple, Joining Other LGBT-Inclusive Retailers
While the LGBT community has become more and more visible in the media, they are still widely underrepresented. So, it's always refreshing when a company decides to include them through marketing. On Monday, Kohl's released a holiday commercial featuring a gay couple, and the Internet has been gushing over it ever since.
Part of its #AllTogetherNow Twitter campaign, the store released the heartwarming video entitled "Celebrate Togetherness." The 30-second commercial shows an extended family gathering for the holidays. Aside from a healthy amount of cooking mishaps, the Kohl's production ends with an interracial gay couple embracing one another at dinner. Even with gay marriage legal throughout the U.S., an image like this, distributed to a mass audience by a familiar brand they trust, goes a long way toward reducing persistent stigma and prejudice, and the Internet for the most part resoundingly approved.
"@kohls Just wanted to let you know the new Christmas ad featuring the gay couple worked. I just ordered a toaster oven from you. #welldone," BeJacques tweeted to the company. Other Twitter users expressed similar sentiments, some with particular enthusiasm:
Inevitably, not all of the responses were positive: Ronnie C. posted on the public Facebook page Americans of Faith for Freedom: "We should never patronize or support any company that promote[s] sin and the destruction of the meaning of what a family stands for…" Facebook user Clayton J. was so bothered by the ad that he posted this message on Kohl's Facebook page:
Welp. I'd rather buy stuff from Pakistan rather than having gay relationships shoved down my throat. You just lost way more money than you gained. There aren't as many gay shoppers to gain as the straight ones you just lost. Someone should fire your moron social justice warriors in the marketing department.
Haters gonna hate.
Fortunately for basically everyone who believes in equal rights, Kohl's isn't the only brand that is saying "Yes!" to inclusivity. Here are three other retailers who have incorporated LGBT couples in their advertising:
Target
Though Target is well-known now for being pro-LGBT, they went the extra mile by including same-sex couples in their 2014 "Made to Matter" ad. While TIME reports that this commercial came on the heels of them voicing support for marriage equality, in 2012 Target released a wedding registry ad for their "Be Yourself, Together" campaign that featured a male couple. While this may seem recent, Target was one of the first companies to unapologetically place LGBT individuals in their commercials.
Chobani
Unfortunately, showing the LGBT community in a positive — or even human — light can still be controversial. Chobani Yogurt learned this firsthand in June when they made a married lesbian couple the stars of an ad and met with protests from OneMillionMoms. Telling the company they "should be ashamed of themselves," members of the conservative group were appalled that the commercial depicted "two nude women in bed while one lovingly strokes the other's foot." And when you thought their complaints couldn't get more desperate, they continued on in the statement:
This commercial not only promotes same sex relationships by including two lesbians, but also same sex marriage because the two women wear matching wedding bands. The ad states, "To Love this Life is to Live it Naturally." There is nothing natural about homosexuality.
Chobani must have anticipated some backlash, but they ran the ad anyway.
Star Wars/Campbell's
It's extra awesome when a company can perpetuate a positive message that appeals to kids. That's exactly with Campbell's did in October, when they released their Star Wars ad depicting a child with two fathers. The move was a part of their "Made for Real, Real Life" campaign, which aims to show what people are doing in their everyday lives — while, hopefully, enjoying their soup.
While many people may feel that including LGBT individuals in their ads is a simple move, the fact remains that a majority of companies don't... but fortunately, more and more are taking this step. And with ads like showing how to do it so, so right, how could they go wrong?
Image: Kohl's/Twitter