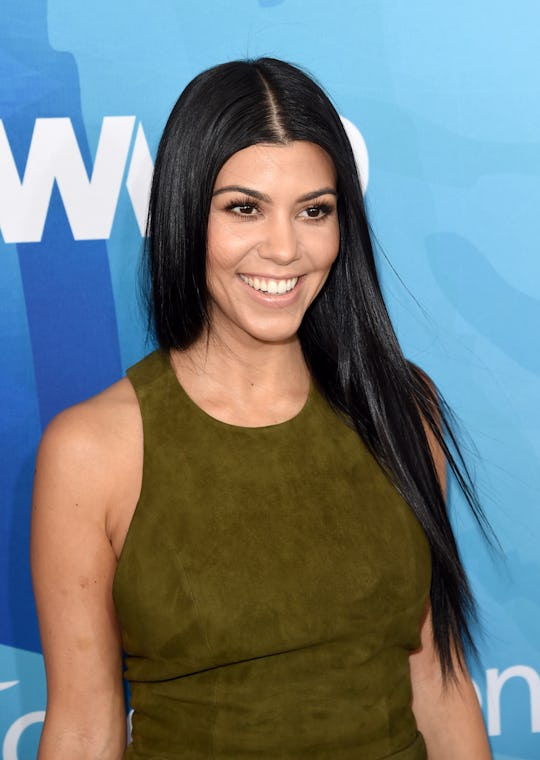 Kourtney Kardashian Launched Her App, & Here Are 5 Things We Hope She'll Share With Fans
Kourtney Kardashian has become the final Kardashian sister to establish a digital dominion outside of social media, you guys. Kourtney Kardashian launched a website and app, and according to the eldest Kardashian, the launch of her app only proves that "they saved the best for last." Unlike her sisters' sites, all of Kourtney's content will be posted at the same time each week, and Kourtney plans to live stream far more frequently.
The platforms give fans all the Kourtney-curated content they could dream of, from family recipes to style tips. Kourtney told Vogue that she enlisted sister Kim for help in determining what to post:
Said Kourt:
She has a better understanding of what somebody would want to know from me than I would.
Fans can access the first round of content on both the website and the app right now, including an intro video a recipe for Kourt's Krispies, and a selection of her favorite nightlights. Though some content is only available with a subscription, new users can get seven days of free full access.
Of the app's release, Kourtney told Vogue:
I'm just really excited to have a platform to express myself the way I want to. [It will be a place] where I can share my passions and all my little discoveries.
Now that the app is out, there are a ton of possibilities for where Kourtney can take it. Here are five things we hope she'll show us:
What It's Actually Like To Be A Celebrity Parent
"I'm a mom of three, so you're definitely going to get insight into my mom life," she says in the intro video on her website. It's hard enough to raise kids in the real world, so it's hard to imagine doing it with cameras aimed at you.
It would be exciting to hear Kourtney talk about the unique challenges she faces and how she copes with being a single mom in the spotlight.
Clues On How To Get Her Style
Kourtney's website offers a cool "Shop the Look" feature: She posts a picture of her outfit, and then fans can find the same or similar items right on the site.
The Yeezy Season 1 sweatshirt she rocks in the first edition may be a bit out of reach for most — $445 can cover a whole Christmas! — but a $28 Forever 21 satchel and $40 sunglasses are great finds. Affordable looks curated by Kourtney take the guesswork out of snappy dressing.
Advice On Preparing For Baby
The "Mini" section of the website focuses on kids, recommending room decorations and clothes. For brand-new moms, Kourtney could make prepping a nursery and stocking a dresser easy with collections that let fans shop within the app. Add in livestreams about what she learned as a new mom, and Kourtney could be a great resource for those who are just getting started on their journey.
Live Streams With Her Sisters — And Her Kids
The Kardashian clan is everywhere, but it's exciting to get a candid glimpse on what womanhood means within their family. Imagine Kim and Kourtney swapping parenting stories and Kris Jenner offering her take on being a mom. Whether you feel close to the Kardashians or not, it's always interesting to get a sense of how the women in other families work together.
Baby Pictures
Mason, Penelope, and Reign are too cute for words. Bring on the family photos!
Images: Jason Merritt/Getty Images, Giphy (5)