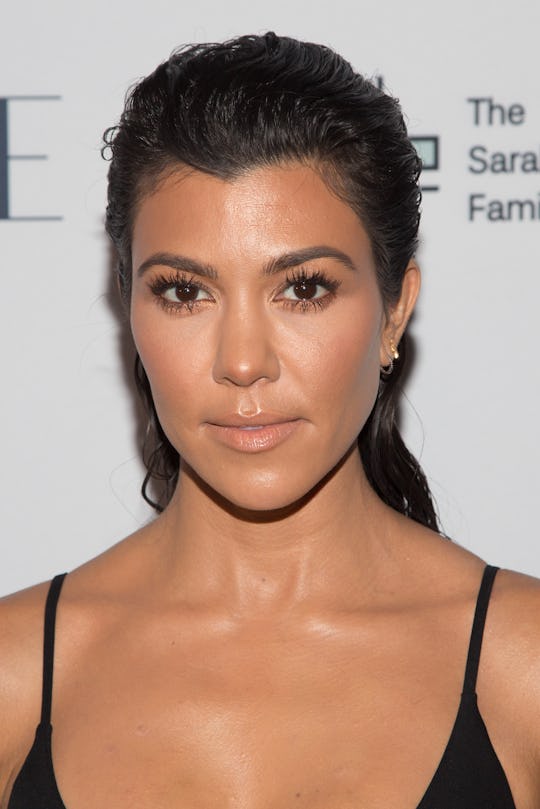 Gabriel Olsen/Getty Images Entertainment/Getty Images
Kourtney Kardashian Reveals BTS Secrets From North & Penelope's Birthday Party
When it comes to celebrity kids' birthday parties, nothing is "over-the-top." When you take children who already live in more glamour and luxury than most of us can even fathom and place that on top of the most special and exciting day of the year, it's bound to be any little kid's fever dream. Kourtney Kardashian revealed behind-the-scenes secrets of North West & Penelope Disick's birthday party this year, and though we thought we knew it all, it turns out there's so much more to be in absolute awe (and somehow, envy) of.
Kardashian posted to her official app a behind-the-scenes look at North and Penelope's birthday party earlier this summer. For those who aren't familiar with the KarJenner family tree, North, the daughter of Kim Kardashian West and Kanye West, and Penelope, the daughter of Kourtney Kardashian and Scott Disick, were both born in June (albeit a year apart). What does that mean? A joint b-day bash, of course.
"North and Penelope have been really into unicorns, so when we threw them their joint birthday party, we knew that had to be the theme!" Kardashian wrote on the app. "We had ponies with unicorn horns, a cotton candy and s'mores station, a 'unicorn snot' glitter slime craft station and music by DJ Livia — she's only 10 years old and she was so good! North and Penelope wore matching rainbow bathing suits and we also had matching unicorn candy-filled birthday cakes from Flour Shop. See all the pics we took at the party, planned by Mindy Weiss."
It's very clear that, despite their incredible careers, the KarJenner women are really passionate about their family, and love being mothers.
Aside from North and Penelope, whom they call "the twins," the family also shares another set of close birthdays in True Thompson, Stormi Webster and Chicago West, the daughters of Khloé Kardashian, Kylie Jenner and Kim Kardashian West, all of whom were born weeks apart in 2018. The latter of the moms, Kardashian West, says that being a mother is everything to her, and that there's nothing she wouldn't do for her kids.
E! reported she wrote on her own app: "I have such unconditional love for my kids. No matter what, I will always love them and support them in anything they choose to do in life. My family was so close growing up; now that I'm a mom, I understand the bond my mom and dad felt with us. There can be ups and downs with kids but no matter what, I always learn so much from them. Being a mom is the most important job I have."
Of course, those "ups and downs" are often well-documented for reality TV. Most recently, Kourtney and Kim were in an argument that made headlines for weeks, regarding their apparent disagreement on "values."
Newsweek reported that on recent episodes of Keeping Up With the Kardashians, an argument erupted as Kim was seen trying to schedule a family photoshoot for their famous holiday card, and Kourtney had scheduling conflicts that were causing issues. It was at this point that Kim said Kourtney was being difficult, as she doesn't have businesses to run like she and Khloé do.
The argument escalated from there, and later, Kourtney opened up about why she feels she has "different values" from her siblings. "You guys just have really different values than me," she said on the show. "I choose to be a mother to my three kids. I'm not here looking for another job. I already work enough — more than I would like to."
Despite the disagreement, the two have seemed to make amends. No matter what's happening in the KarJenner universe, it's always glamorous, dramatic and interesting, and thankfully, the family is taking fans along for the ride.