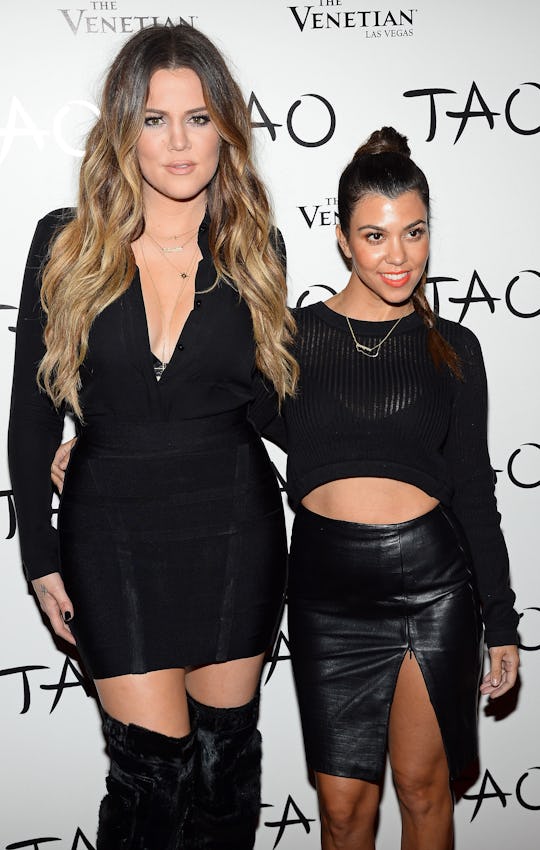 Ethan Miller/Getty Images Entertainment/Getty Images
Here's Why Kourtney Kardashian Thinks Her Family Is "So Blessed"
Although none of Kourtney Kardashian's kids were a part of the recent KarJenner baby boom, her kids still have some cousins in the family who are pretty close to them in age. And Kourtney Kardashian says their family is "so blessed" that their kids can grow up together, because they were all welcomed within a short amount of time. Kourtney even said the cutest thing about the relationship between her nieces True, Stormi, and Chicago in a recent interview that will have parents everywhere aww-ing.
Kourtney has three children — Mason, Penelope, and Reign — with her ex Scott Disick, whom she co-parents with. They're all a few years older than the newest babies in the KarJenner camp, but they do have cousins that are not significantly older or younger than they are. And that creates a special bond between all the cousins that Kourtney says the whole family appreciates.
In an interview with People, Kourtney remarked that the whole family having all those kids together is "amazing," and said:
To have all of our kids be able to grow up together and there's one after the other, I feel like we're all so blessed. We love it — it's the best energy. We were just hanging out with all the kids outside and it's really amazing.
In particular, Kourtney talked about Khloé Kardashian's daughter, True Thompson, who was born in April, Kylie Jenner's daughter Stormi Webster who was born in February, and Kim Kardashian West's daughter Chicago West, born in January. Kourtney told People:
I think it's really special to have three little baby girls all at the same time...We call them the triplets.
And how adorable is that?
None of the three youngest Kardashian/Jenner babies are Kourtney's kids, but none of her kids are older than eight years old themselves. So they really aren't much older than their youngest cousins, plus they all do have playmates in the family who aren't too far off from them age-wise.
The oldest of the KarJenner cousins is Mason, born in 2009. His sister, Penelope, was born in 2012, and she's really not that much older than North West, Kim's first child who was born in 2013. In fact, for their birthday this year, Penelope and North had a joint unicorn-themed party. The two must be close enough, and not just in age, to celebrate together like that.
Then there's Reign, Kourtney's youngest, who came along in late 2014. Kim and her husband, Kanye West, welcomed their son Saint West almost a year later, so those boys will be close in age for the rest of their lives as well.
Between Saint and the littlest KarJenner grandbabies is Dream Kardashian, Rob Kardashian's little girl who was born in 2016. So she'll always have cousins who are just a little bit older and a little bit younger than she is, and hopefully she'll get along with and get to spend a lot of time with all of them.
Plus, Kourtney herself may not be done adding to the Kardashian/Jenner brood just yet. She told E! News on Thursday that she's definitely open to the idea of having more kids, and told the outlet that when it comes to welcoming more of them in her future, "I think the thought is always in the back of my mind," Kourtney said, "Never say never."
Sources have also claimed that Kim wants more kids, and momager Kris has said before that Kylie is "born to have kids." So there's a good chance that there could be even more Kardashian or Jenner cousins coming along in the future.
It's anyone's guess at this point just how many Kardashian/Jenner grandchildren there could be in the end. But for now, all of them are fairly close in age, and Kourtney for one thinks that that makes the whole family #blessed.