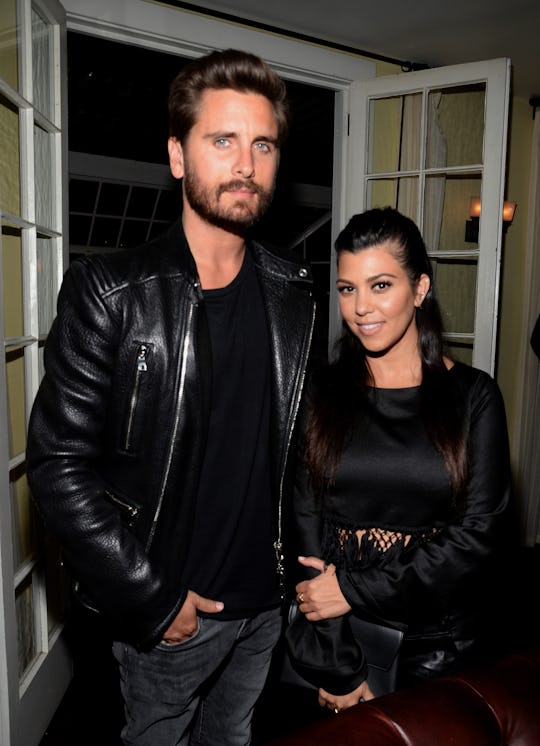 Chris Weeks/Getty Images Entertainment/Getty Images
Kourtney Kardashian & Scott Disick Are Back Together & It's A Holiday Miracle
This morning felt a lot like Christmas when E! News reported that Kourtney Kardashian and Scott Disick are officially back together. The two broke up in July 2015, and ever since things just simply felt off when watching KUWTK. The relationship between the two was never easy — Kardashian seemed to not entertain the often juvenile and partying behavior of Disick throughout their relationship. She even frequently kicked him out of the house for partying too much. The two are notorious for playing the break-up to make-up game, but this split was different, leading everyone to fear the worst. Ultimately, time worked it's magic, and it looks like "The Lord," and "Buford" are back in action. It's a holiday miracle: love exists!
Despite their time apart, the two seemed to never stopped caring for each other, and stayed close throughout their separation. Disick spent a lot of quality time with their adorable children, Mason, Penelope, and Reign, and has been cordial with Kardashian. According to E! News, he spent Thanksgiving with the Kardashian clan last year, and went on a vacation to Vail with them in April. "...He's family. He'll always be," Kardashian told Ellen Degeneres in an interview in January. The couple "want[s] to make it work for them and their kids," an insider told E! News.
Keeping Up With The Kardashians fans have been with Disick and Kardashian from the start. The two have been together since 2007, when KUWTK first came out. Fans like me have seen the two at their best and worst. We've seen Scott pretend to be The Notebook's Noah for Kourtney — he even had a six-pack spray-painted onto him for the performance.
Along with the happy moments, we've been in the room for the not-so-great ones, as well, like when Kardashian threw Disick's clothes out of his room, or when she banned him from their summer house in the Hamptons.
Their rollercoaster of love has everyone going for a thrill ride. When they're down, they're down, but when they're up, they're sky-high. And even though the two have had, what seems like, a lot of drama over the years, they still always find their way back to one another, and that kind of love is the real deal.
A person can't help but get attached to the wacky pair after seeing the way they kiss and makeup, so it's no surprise that the hearts of Twitter united over the news this morning.
Kardashian and Disick's restored relationship is an early Christmas present to us all, and a great way to end the year! We can only hope this reconciliation will be their last, so we can continue to watch more goofy couple moments like this: