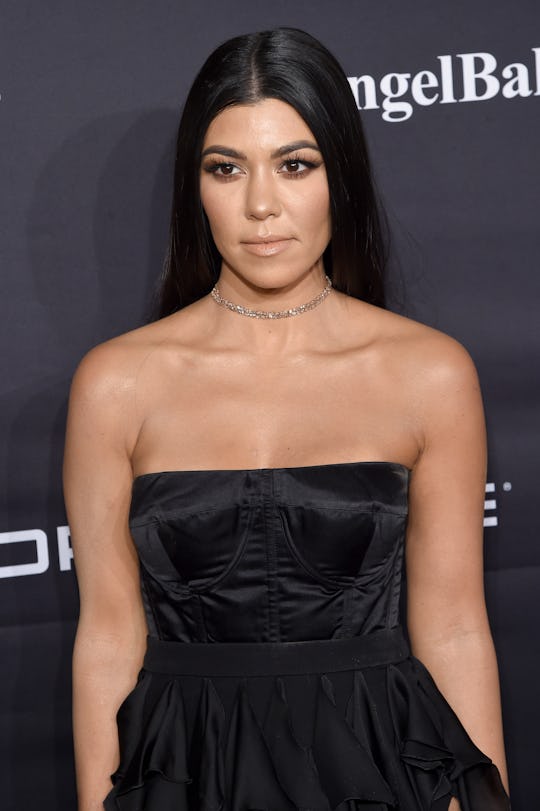 Jamie McCarthy/Getty Images Entertainment/Getty Images
Kourtney Kardashian's Best Co-Parenting Quotes
Kourtney Kardashian and Scott Disick may no longer be a couple, but after nine years and three children together, it's clear that they will still always be an important part of each other's lives. And while they may not exactly spring to mind as the ultimate role models in post-breakup parenting (I guess having all the ups and downs of your relationship played out on reality TV will have that effect), Kourtney Kardashian's best co-parenting quotes show that, actually, Kardashian and Disick have a really mature and healthy perspective about their responsibilities to their kids, and have totally put their children first ahead of any personal differences (maybe they are #relationshipgoals after all?).
Fans of the couple followed their breakup, along with Disick's personal struggle which culminated in a rehab stint, as it aired on Keeping Up With The Kardashians a year ago, according to People, and it seemed as though tensions between the couple may have been running high. Kardashian spoke at the time about the difficulty of navigating a co-parenting relationship while not actually wanting a romantic relationship with Disick again, but more recently, Kardashian has shared that she and Disick have managed to get to a really great place, where they can be a family without being together, and do what's best for their kids first and foremost.
Not Together, But Getting Along
About six months after their split, Kardashian appeared on The Ellen DeGeneres Show where she spoke about the status of her relationship with Disick, according to People:
We're not together. I feel like every day is different, but we're totally getting along. We have three beautiful kids together. But you know, he's family. He'll always be.
That was a hard time for Disick, who seemed to really struggle following the breakup.
Though Disick sought treatment — reportedly for drug and alcohol addiction, according to Us Weekly — Kardashian spoke to her mom and sister Khloe in an August episode of Keeping Up With The Kardashians about not feeling comfortable attending his 33rd birthday party in case it gave him the wrong idea about her feelings for him, according to In Touch:
I'm just not sure if I want to go. I'm so happy that Scott and I are getting along so well and that we're co-parenting, but I think hanging out with Scott without the kids — Scott can just take any little thing and run with it and think that we are getting back together tomorrow. Right now, I can't even wrap my head around that idea. There's so much work that would be involved. I'm so not even there yet.
Co-Parenting Gets Easy
Things may have started off rocky for Kardashian and Disick as co-parents, but according to E! News, in an August 2016 interview with You Magazine, Kardashian said that they'd come a really long way:
I find co-parenting really easy. Scott and I communicate all the time. You have to keep discussing what's going on because as the children grow older, the rules need to be renegotiated.
Given their struggles, it's pretty admirable to hear that Kardashian and Disick had found a way to work so well together as parents — and there's no doubt that their kids are so much better off because of it. But more than just communicating, Kardashian told the mag that they also spend a lot of time together, too, and said, "we make sure we go on days out together because the kids love it."
In fact, Kardashian and Disick have even become co-parents who vacation together. Disick told Us Weekly last summer that they took their three kids to Nantucket for about 10 days, and rented a beach house:
[We ate], slept, relaxed, swam, drove around, saw the sights. [We] checked out different restaurants. Went to some candy stores for the kids. Overall, it was very, very relaxing.
Her Family Is Still His, Too
Of course, anyone who's watched Keeping Up With The Kardashians knows that the Kardashian family is incredibly tight-knit, and totally involved in each other's lives. When Disick and Kardashian were a couple, that basically meant that they'd accepted him into the fold, but Kardashian told Cosmopolitan in October that that hasn't changed at all even though they're not together — especially in light of the fact that, after the loss of his own parents, Kardashian's extended family is really the only family Disick has. When asked if she thought it felt weird to have her ex still be so close to her family, Kardashian said,
Not really. He doesn't have a mom and dad anymore — or siblings. He's an only child. So they're his family too. They're in the loop if I am annoyed at him but if he needs to talk to them, I think it's only beneficial to us keeping a good relationship. A lot of how a person's doing is the company you keep. If they could be influences on him instead of some of the people he chooses to hang out with, it's only a positive thing.
Kardashian also told the mag that even though they don't live together, Disick spends a lot of time visiting:
We try to do as much with the kids together as possible. He pretty much comes here every day. Last night, he came over and watched a movie with Mason. North was here, Kim was here. But, like, this house, everyone's in and out. I'll come home and Kim will be hanging out at the kitchen table having lunch with North, Penelope, and all the kids. I'm like, "Oh, I didn't know you were even here!"
She's Pretty Relaxed About Their Future
Even though co-parenting seems to be Kardashian and Disick's main focus right now, Kardashian told Cosmopolitan that she keeps an open mind about what might come. And even if they never get back together, it sounds like they're pretty happy remaining involved in each other's lives.
[The] idea of having my family together is amazing, but it's not the way things ended up. They may end up there. I'm not sure. To me, it's in God's hands. If it's meant to be, then things will line up … We definitely tried for a long time. But relationships are exhausting! Being able to focus on the kids and me right now is good. We say to each other all the time, 'I'm the coolest ex-girlfriend/baby mama you could ever ask for!'
The reality is, co-parenting with an ex after a breakup can be really, really difficult — even when you have as much money and resources at your disposal as Kardashian and Disick do. But being able to put aside relationship differences for the sake of the kids can be so valuable if it's a realistic possibility. And, who knows, maybe one day it could even become enjoyable. As Kardashian and Disick have shown, it seems to be entirely possible.