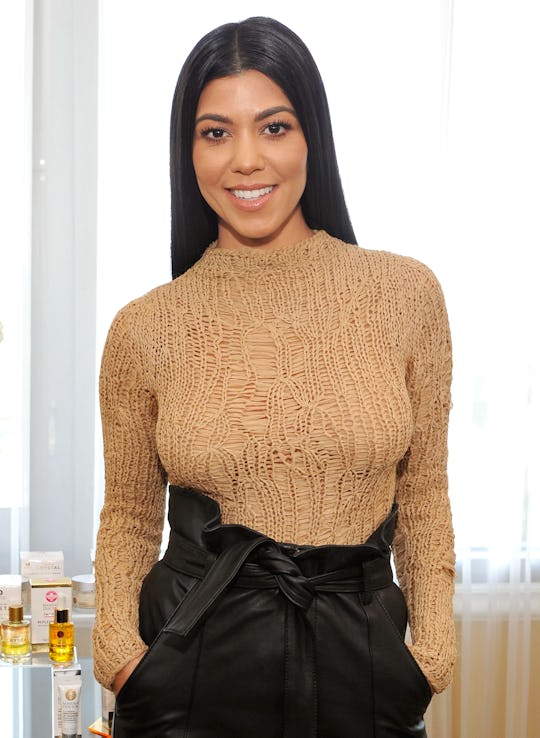 John Sciulli/Getty Images Entertainment/Getty Images
Kourtney Kardashian On Why She Loves Being A Mom
The Kardashian clan now has quite a few kids among its ranks, but oldest sibling and mom-of-three Kourtney Kardashian probably has the most mom clout among her sisters — especially now that rumors of a possible fourth child have been circling. In case you've missed some of her most memorable lines, don't worry: Kourtney Kardashian's best parenting quotes also prove that she's got this whole mothering thing locked down, and moms everywhere can probably relate to her honest, hilarious, and very real takes on parenting children.
Kardashian and her partner, Scott Disick, have quite the cute brood to take care of: they're parents to 7-year-old Mason, 4-year-old Penelope, and 2-year-old Reign. Kardashian frequently documents her children's shenanigans on social media, and she's fairly open about her views on parenting and how she's decided to raise her kids (spoiler alert: she's raising them very, very healthily!). And in case you missed it, her kids are absolutely adorable.
Just like the rest of moms out there, though, Kardashian struggles with mom guilt, sibling squabbles over parenting issues, and public criticism (oh, the joys of being an international celebrity and a mother). Overall, however, her best parenting quotes show that being a mom is a role she's super proud of.
On Dispelling The Haters
In 2011, Kardashian told Parenting that moms each had to tackle parenting in their own way, saying:
I am doing the best that I can, and I feel really confident in that. Unless someone has walked in your shoes, you really can't judge. Everyone needs to make the best choice for their life.
Her Advice For New Moms
In 2016, Kardashian told the New Potato that new moms should... well, chill out and trust themselves:
I think just to trust your instincts. I think we all have a mother's instinct when we have kids, so just trust it and stay calm. I remember when I was pregnant with Mason, my mom would always be like, "Why isn't the room painted? Where is the crib? Where is this or that…" And I was like, "People used to have babies in caves; it's going to be okay."
On Feeling Guilty
In 2011, Kardashian told Parenting:
Unless I'm working, I can't be away from him without feeling guilty. It doesn't feel good or natural to be, so it's a struggle. My friends keep saying, "You and [boyfriend Scott Disick] should go out and eat or do something." Recently my sister Kim watched Mason so we could go to dinner. It took so long—actually, it probably didn't take so long, but to us it felt like it took long—we were like, should we just get pizza and go home?
Parenting Can Be Gross, But That's Part Of The Fun
"I remember one day I was kissing Mason and he spit up in my mouth, and I loved it," Kardashian said, according to Cosmopolitan. I mean, that's how memories are formed, right?
On Being A Strong Mom (& Woman!)
On International Women's Day in 2015, Kardashian posted an inspiring ode to strong ladies everywhere — and pointed out the importance of being a strong, smart female role model for children. On Instagram, she wrote:
I am surrounded by strong women every day. I am so inspired by my strong, smart sisters, mother and grandmother all day long. Most importantly, teach your children (girls and boys) about what today means and lead by example. #internationalwomensday #teachyourboys
On Breastfeeding & Pressure
According to People, Kardashian told FitPregnancy in 2014:
I nursed Mason for 14 months and Penelope for 16, and I loved it. ... It was built-in time that the two of us could share alone every day. I didn't have any goals or expectations.
On Motherhood In General
In 2012, when asked what being a mom meant to her, Kardashian told Parents:
It's definitely my favorite role in life. It has changed me and made me realize there is nothing else I would rather do with my time.
What She'd Like Her Children To Know
In that same Parents interview, Kardashian said the most important lesson she could pass on to her kids was the following:
Cherish your time and learn about what is important. I want them to know: Don't get caught up in things that don't really matter and don't get caught up in the things society puts so much pressure on.
All things considered, that's not bad advice for parents, either. Here's to hoping Kardashian will have many more inspiring parenting quotes for fans as her little clan grows up.