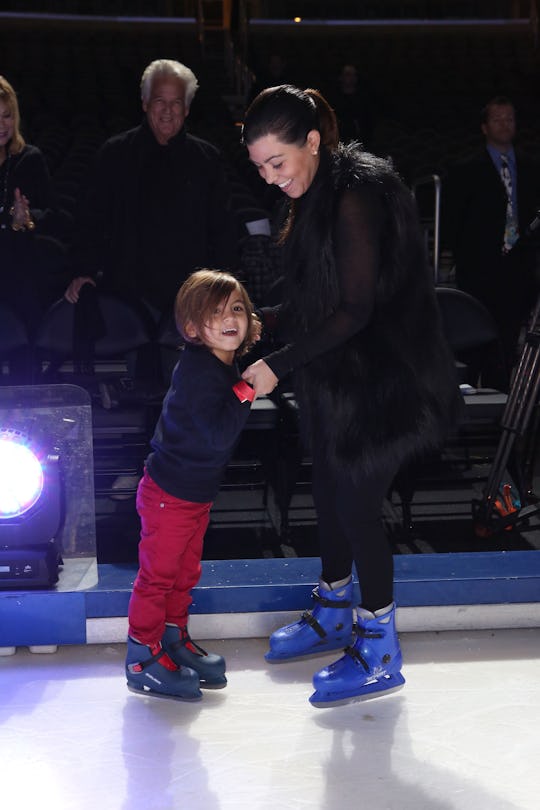 Kourtney Kardashian's Birthday Message To Reign & Mason Disick Gets At Their Crazy Coincidence
It's a big day in the Kardashian family! Two of the youngest members of the Kardashian clan, brothers Mason and Reign Diskic, Mason and Reign, both celebrate birthdays today as Mason turns 6 and Reign turns 1. In honor of their big (shared) day, their mother, Kourtney Kardashian, wrote a birthday message to Mason and Reign on her website noting the amazing coincidence of their joint birthday, which she says she tried to avoid:
It is still crazy to me that I have two boys born on the same exact day. I really tried to not have it happen, so they could each have their day, but there was no way around it. It is truly so special and meant to be. Happy birthday to the coolest and sweetest boys I know!!!
Hollywood Life reports that Mason and Reign celebrated their shared birthday with an alien-themed party on Saturday. The outdoor event included laser tag complete with UFOs (lanterns) and aliens (of the inflatable variety). Sunday, the festivities continued with a Pokémon-themed breakfast. Kourtney Kardashian has three kids with her ex, Scott Disick: Mason, Reign, and three-year-old daughter Penelope (born July 8, 2012).
Kardashian, who is known for posting adorable photos of her kids on Instagram, also marked the boys' big day by posting an Instagram photo of Mason and Reign together with the caption: "Happy Birthday to my sweet boys who forever changed my heart! I still can't believe they have the same birthday."
Aunt Kim Kardashian also posted birthday wishes for both boys. Kardashian's message to Mason: "Happy Birthday Mason! You were the 1st born and changed everything! I can't believe you are 6 years old! I love you more than you can ever imagine!"
Happy Birthday to the sweetest baby Reign. Explaining to Mason that his little brother wanted to be just like him that he even took his birthday was a fun task lol I can't wait for you & Saint to be bff's!
As the boys turn a year older, Kardashian fans can look forward to another year of adorable photos of the two, but before that, let's take a look back at some of Mason and Reign's cutest moments from the past year: