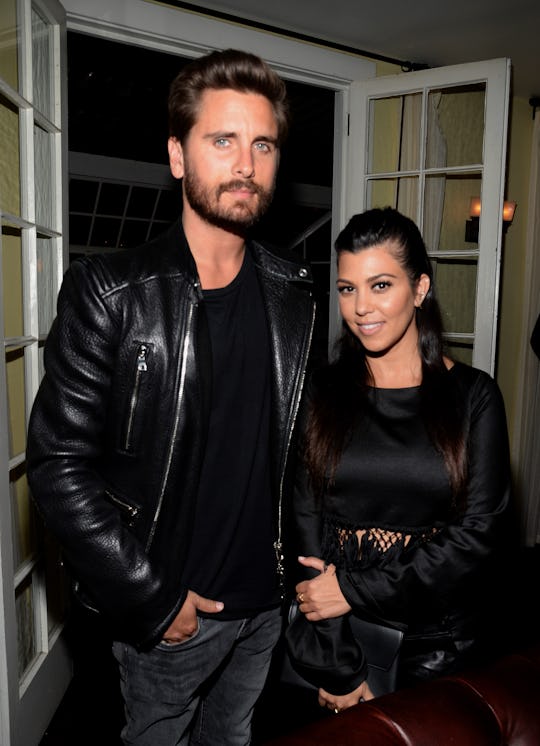 Chris Weeks/Getty Images Entertainment/Getty Images
Kourtney Kardashian's "Coparenting" Instagram Post Is Being Unfairly Criticized
There's no "right" way to have a family, and there's certainly no "right" way to tackle coparenting; it's pretty much whatever works best for you. The truth is that every family is really as different as the individuals within it, and navigating what it means to healthfully and happily raise kids on your own terms isn't always easy. Be that as it is, Kourtney Kardashian's "coparenting" photo with Scott Disick and their daughter Penelope is pretty much the epitome of relationship goals, whether you're together or not. But people are, of course, finding issue with it.
For a debriefer, Kardashian and Disick's relationship dates back to 2006, when the couple met while on vacation in Mexico, according to Redbook. The next year, as many reality TV stans will recall, Keeping Up With the Kardashians aired, and so did the blossoming of their romantic relationship. However, it's been 12 years since they first got together, and a lot has happened since. The couple has split and gotten back together a number of times, but officially called it quits for good about two years ago, after allegations of a cheating scandal surfaced, according to People. Both Kardashian and Disick have since been involved in other romantic relationships, but evidently remain close.
However, the most important piece of this entire puzzle is, of course, the three children they share together: Mason, Penelope and Reign. Despite their separation, it's clear that they put their family first.
... Which brings us back to the photo. On Wednesday, Kourtney uploaded an image of herself, Disick and daughter Penelope to Instagram. In it, she is wearing a fancy black dress, sunglasses and heels, posing alongside a bed, on which Disick and Penelope appear to be reading together on his phone. "Coparenting," she simply captioned it.
However, many people have begun responding critically to the photo, claiming that Kardashian appears to be "self-absorbed," like an "absent mother" letting Disick do all of the work. Us Weekly even reported that many believe Kardashian posted the photo in order to make Disick's new girlfriend, Sofia Richie, "jealous."
"What happened to boundaries and personal space?" one comment read.
"This is NOT ok..." another commented.
"I never saw anyone 'coparenting' in bed with their ex unless they were [sic] trying to get them back," one more chimed in.
The reactions are telling of a world that expects mothers to disregard their sexuality, never put themselves first, and least of all, be able to share a funny photo, which is ultimately what the post seems to be. (Whether or not Kardashian is a committed, amazing mom shouldn't be in question — she is.)
Either way, it's evident that the couple has remained a close part of one another's lives, and has stayed committed to being present for the sake of their children. Back in November, when the KarJenners took a family trip to Bali, Indonesia, Cosmopolitan reported that Disick joined in the vacation, leaving many perplexed as to his and Kardashian's alleged relationship status, and whether or not it had changed. (Apparently not, but they did indeed go on the trip together, as Instagram photos would prove.)
Later, on Nov. 22, People reported that Kardashian even revealed that the couple had a sleepover together the night before Thanksgiving, so the whole family could be together for the holiday.
Back in 2016, Kardashian called coparenting with Disick "easy," and explained that it's important to stay active in one another's lives especially as the kids get older, and rules and expectations shift.
In an interview with YOU, she shared, "I find co-parenting really easy. Scott and I communicate all the time. You have to keep discussing what's going on because as the children grow older, the rules need to be renegotiated."
It's clear that Kardashian, Disick and the rest of their kin are navigating their way through life and making it work for them. If nothing else, that's the real moral of their story together.
This first-time mom wants to have a home birth, but is she ready? Watch how a doula supports a military mom who's determined to have a home birth in Episode One of Romper's Doula Diaries, Season Two, below. Visit Bustle Digital Group's YouTube page for the next three episodes, launching Mondays in December.