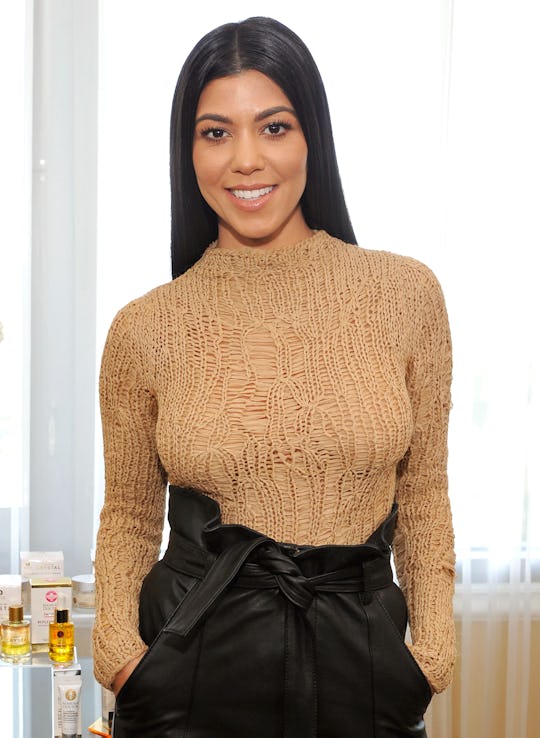 John Sciulli/Getty Images Entertainment/Getty Images
Kourtney Kardashian's Kids Had An AMAZING Birthday
We're now almost two full weeks into a new year, which means it's about time for 2017's first epically shareable social media photo of a celebrity's hopelessly adorable children. As usual, the Kardashians do not disappoint, because Kourtney Kardashian's Fast and Furious birthday party Instagram of her kids is about as cute as it gets. The Fast and Furious-themed birthday party was held three weeks ago, but the photo wasn't posted until today — likely because Kardashian was sidetracked by the holiday festivities, of which there were many.
The party was held for her sons Mason, 7, and Reign, 2, who both have Dec. 14 birthdays. Also in attendance, of course, was Kardashian's daughter, 4-year-old Penelope Disick, who had her own awesome birthday party in June; It was a joint mermaid-themed party with her cousin and BFF, 3-year-old North West.
The Instagram photo shows Kardashian with her three kids and their dad, television personality Scott Disick, all decked out in Fast and Furious-themed gear. Kardashian's outfit, arguably, is the best. The mom of three is showcasing some killer black leather leggings along with an American flag bandana, an oversized jean jacket, and sneakers. The kids are all wearing hoodies with black pants, and Disick is dressed in all black, with black sneakers and a black leather jacket.
It looks like a moment of laid-back fun for the family of five, amid the recent news that Kardashian and Disick are getting back together. According to reports at multiple sources, the couple moved back in together in November, and in December, sources confirmed that the on-again, off-again couple of nine years was giving it another go. Kardashian, Disick, and their kids recently returned from a New Year's skiing trip in Colorado, so it certainly looks like things are going well so far. Regardless of their relationship status, Kardashian and Disick certainly deserve parenting props for putting together such a fun birthday party for their sons. The festivities included car-themed birthday cakes, a tricycle race track set up in a drained swimming pool, and an inflatable bouncy car for the kids to jump around in.
And this being a Kardashian party, along with these typical party accoutrements came rumors and drama. As noted at People, Kourtney's sister Kim Kardashian West was in attendance sans husband Kanye West, who was hospitalized last month for exhaustion. Sources told People that Kim spent several hours at the party; She was wearing a gold wedding band.
Meanwhile, the Fast and Furious party took place the very same day that the Kardashians' brother, Rob Kardashian, posted a dramatic Snapchat showing an empty baby nursery and stating that his fiance, Blac Chyna, had left with Dream, their 2-month-old baby daughter. The couple has since gotten back together, according to Us Weekly.
It's likely that the various Kardashian couple's dramas will continue, but we're OK with that as long as they keep throwing these amazing kid's parties.