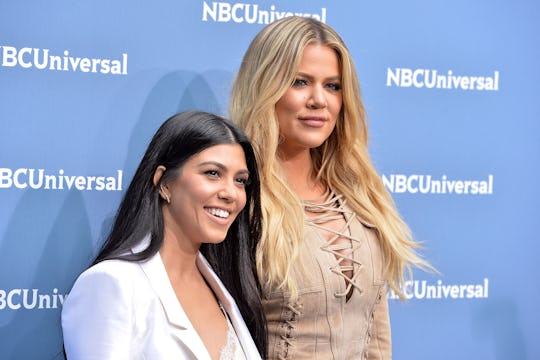 Slaven Vlasic/Getty Images Entertainment/Getty Images
This Photo Of Reign Disick & Baby True Thompson Will 100% Make Your Heart Melt
Family means everything to the Kardashian siblings. Although fans may watch them fight week after week on their E! reality show, Keeping Up With The Kardashians (KUWTK), at the end of the day, they'll stand up for each other and protect one another to the very end. And now the youngest generation of Kardashians is doing the same. It's easy to see how Kourtney Kardashian's photo of Reign and True is representative of that strong bond between the Kardashian siblings — they'll protect one another to the very end.
There are a lot of Kardashian cousins. Kourtney and siblings — Kim Kardashian, Khloé Kardashian, Rob Kardashian, and Kylie Jenner all have children of their own — with Kendall Jenner being the only one of mom, Kris Jenner's kids, without a child. All of the cousins are close in age, ranging from 9 years old (Kourtney's son Mason) to 6 months old (Khloé's daughter True), according to Elle.
So, because the siblings are so close, it makes sense that the cousins would be, too. And this can be evidenced in Kourtney's Instagram post from Friday. In the photo, Kourtney's youngest child, 3-year-old son Reign, can be seen putting a loving arm around True (who looks so happy to be hanging out with her cousin). "He protects her," Kourtney captioned the photo.
It's not only a testament to the bond that they share but the same thing that the Kardashian siblings have. No matter what happens, they'll protect each other to the end.
Kourtney and Khloé are exactly like that — they're so close they had their own KUWTK spin off series, Kourtney and Khloé Take Miami and Kourtney and Khloé Take The Hamptons, which aired five years apart from each other. In both of these shows, Kourtney and Khloé went through their fair share of ups and downs, but in the end they protected one another and came out stronger than ever.
Although True is so young it's easy to see why her older cousins would want to protect her. People on the internet have made comments about True's skin color and called her "not cute", according to Teen Vogue, pointing out how much darker it is compared to her cousins — which not OK at all. Khloé has defended her daughter from these commenters, taking to Twitter over the past few months to rant about this, according to People. "What self respecting adult would even comment on a child's appearance?" Khloé tweeted in July.
Because True is receiving these kinds of comments at just a few months old, imagine how much harder it will be for her when she grows up. She's going to need all of the love and support and protection she can get — and her cousin, Reign, will be there for her.
This isn't the first time that the Kardashian cousins have hung out together — the siblings Instagram posts have shown that they're super close.
The cousins have had cupcake parties, according to Entertainment Tonight, have participated in photoshoots together, according to W, and are basically inseparable. Khloé provided some insight into their bond in a blog post on her website in late July, according to People. Khloé wrote:
Having all of the cousins together is SUCH a blessing and a dream! We have baby class once a week together with all the kids and it's incredible! Seeing their strong little personalities bond with each other is the best thing to witness. I can't wait to watch it continue!
And this is something that is going to continue for the rest of their lives. It's awesome to see how close the cousins already are — and thanks to Instagram and KUWTK, fans will get to witness their friendships with one another grow.