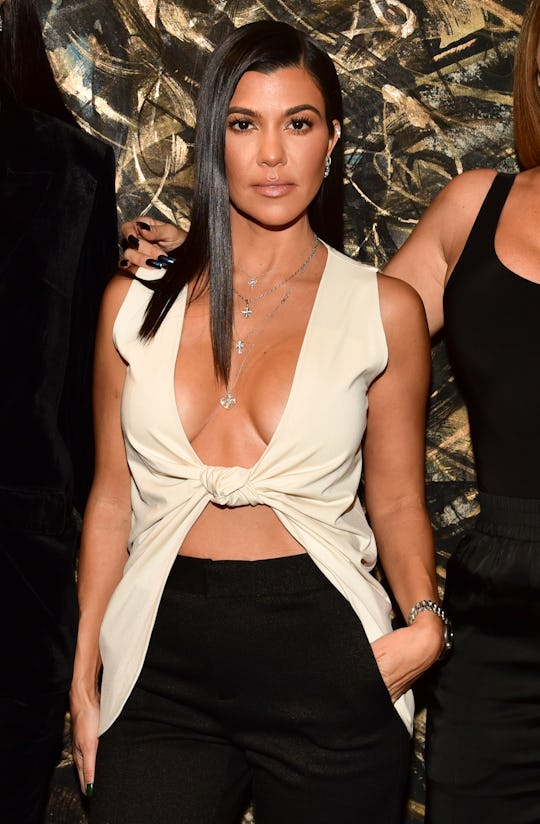 Rodin Eckenroth/Getty Images Entertainment/Getty Images
Kourtney Kardashian's 3-Year-Old Son Asked The Grinch A VERY Important Question
Kids say the darndest things, and by darndest, I mean hilarious and perfectly timed. For instance, on Sunday, Kourtney Kardashian's son Reign met the Grinch and asked him the question on every kid's mind: "Why did you steal Christmas?" Unfortunately, Reign's mom didn't share what the Grinch had to say in return, but I'd imagine it went something like, "Hate hate hate, double hate, LOATHE ENTIRELY!"
The shot of Reign and the Grinch came from a family visit to Universal Studios Hollywood. Along with Kardashian and Reign, his dad Scott Disick, brother and sister Mason and Penelope Disick, and cousins Saint and North West all hit the park to meet the movie characters, according to the Daily Mail. In an Instagram post from the day, Kardashian revealed that her son wanted answers from the Grinch. "He asked, 'Why did you steal Christmas?'" she captioned the photo that showed Reign looking, uhm, less than thrilled to be hanging out with everyone's favorite holiday antihero.
Kardashian's followers were cracking up over Reign's question and the poses that the kids were striking around the set of Whoville. "I'm literally 3 decades older than these kids and I want to be their friend!" one person wrote. "North is MOOD," said another. They are certainly a group of characters.
Despite their famously heavy holiday load, the Kardashians may have a bit more free time this year. According to Cosmopolitan, they will be skipping one of their usual traditions: the family Christmas card. In a reply to a fan on Twitter, Kim Kardashian broke the bad news.
One of her followers wrote, "I feel like with the drama that happened last year, we may not get a Kardashian Christmas card this year I'll be cool with a West family one tho!" Kim then came back and answered him, saying, "Wow reading my mind."
The 2017 card came with added intrigue as fans scanned the released images for any sign of Kylie Jenner's then-unannounced pregnancy in the form of a growing belly. But, alas, she — and her growing baby — were notably absent from the final Kardashian Christmas card, as E! News reported. Rob Kardashian was also missing from the shot.
Additional drama reported by Cosmopolitan included fights between Kim and Kourtney and scheduling conflicts. After the debacle that was my own family Christmas card photoshoot this year — getting numerous toddlers to stand still and smile is no small feat, folks — I don't blame them.
But even without the card to fill their hearts with the Christmas spirit, the KarJenners have plenty to look forward to as we countdown to Dec. 25. For example, the annual Kardashian family Christmas party is rapidly approaching. Last year's shindig included a star-studded guest list, delicious food, and hundreds of thousands of dollars in gifts for the guests. Momager Kris Jenner starts the preparation months in advance, as she told Glamour:
We start organizing in July. The first call I make is to Jeff Leatham [LA-based floral designer, who counts Oprah Winfrey and Madonna as loyal customers]. He's responsible for all my house decorations — flowers, garlands, fireplaces — and, most importantly, my trees. It's a major collaboration between him and me — we get so excited, we're like two little kids.
Jenner also shared that Khloé is in charge of tunes and the Santa Claus makes an appearance — with reindeer in tow. Am I the only one wondering what kind of questions Reign has in store for him?
All in all, a trip to Paramount Studios is only a small part of the excitement that the gang has to look forward to. Talk about a merry Christmas!
After experiencing a traumatic c-section, this mother sought out a doula to support her through her second child's delivery. Watch as that doula helps this mom reclaim the birth she felt robbed of with her first child, in Episode Three of Romper's Doula Diaries, Season Two, below. Visit Bustle Digital Group's YouTube page for more episodes, launching Mondays in December.