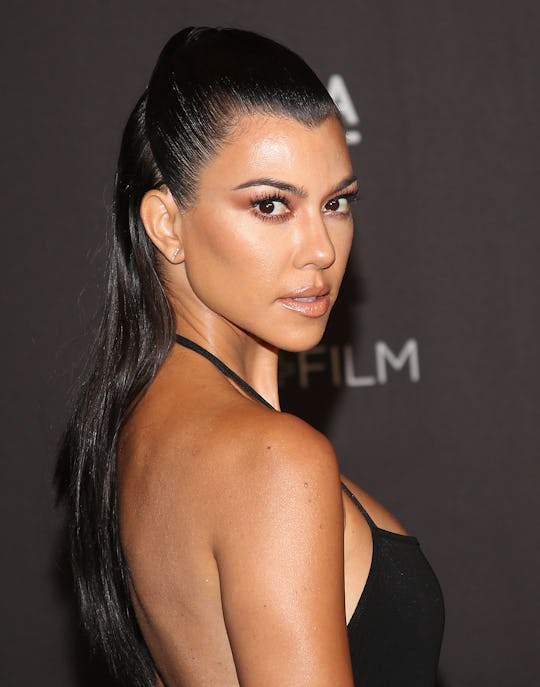 Jesse Grant/Getty Images Entertainment/Getty Images
People Are Criticizing Kourtney Kardashian's Son's Hair (Again) & Ugh... Just Ugh
Looks like people still haven't gotten the memo that criticizing a child's appearance is never OK. After Kourtney Kardashian's most recent photo of herself and her son Reign appeared on Instagram, a crew of haters slid into the comments to criticize Kourtney Kardashian's son's hair as well as Kourtney's parenting skills — yet again. Folks, it's time to give the unwanted criticism and the mommy-shaming a permanent rest.
This weekend, like many others all across the country, Kourtney Kardashian got started on her Christmas shopping. (Though unlike most people, the Kardashians can certainly afford to shop when things are full price — so it's nice to see that Kourtney still appreciates a good sale.) On Saturday, Kourt posted a photo of herself lounging in a bikini and sunglasses on a pool chair, scrolling on a laptop. Her son Reign, almost 4, is standing next to her, still wet from the pool. "Christmas shopping," the mom of three captioned the picture.
To me, it seems like a photo of a mom and her son hanging out, casually rubbing California's sunny weather in my freezing-cold New York face. But to those who look for the flaws in the simplest things, it was an excuse to shade Kourtney for letting her son stand next to her, since he apparently looks uncomfortably cold to some people.
"Dude your kid looks freezing, aren't u gonna do something," one commenter wrote. "Your child is f*cking cold, take care of the kid," added another. "That child looks cold," someone else commented.
Others commented on Reign's long hair. "The girl is feeling cold and u are browsing instead of giving her a towel to cover herself," another person added, speaking about Reign. "Cut that poor child's hair," another commenter wrote. "Reign is so cute! But cut his hair! I can never tell if he's Penelope or himself," someone else wrote, according to Allure. "Kort respect yourself and your kids and cut this poor kids [sic] hair. I thought this whole time he was a girl," another comment read.
Kourtney is typically not one to respond to her trolls, and she decided to sit this one out. That said, some of her loyal fans came to her defense, telling the haters to back off. "Stop shaming this amazing mom! And for the rest of the judge-mental a**holes, this is not your son to say to cut his hair or you can't tell him or P [Penelope, Kourtney's daughter] apart; it's NOT your child!" one supporter commented.
Another fan went even further, explaining why people's comments that Reign is "suffering" make no sense. "Kourtney is an amazing mother, if Reign was really that cold, I'm sure he would tell his mommy," they commented.
This is not the first time people have criticized Reign's long hair. For example, in January 2018, a sweet photo Khloe Kardashian Instagrammed of Reign caused many people to comment, expressing uncertainty about Reign's gender.
And in a December 2016 article, some tabloids heavily criticized Reign's haircut. "Why hasn't Kourtney simply gotten Reign a haircut, considering he appears to need it badly?" one article claimed people were wondering. "By placing her male child's hair in a ponytail, is she showing subtle support for the LGBT community?" Why don't we just leaving parenting to parents, OK, everyone?
Kourtney has made it clear that her children are her number one priority on many occasions, so it really is ridiculous to accuse her of improperly treating her son in any way. In 2011, Kourtney talked about her motherhood style with Parenting:
I am doing the best that I can, and I feel really confident in that. Unless someone has walked in your shoes, you really can't judge. Everyone needs to make the best choice for their life.
And in 2012, she told Parents that being a mom is her "favorite role in life, adding:
It has changed me and made me realize there is nothing else I would rather do with my time. Being a mom is what life is about. I hope people realize what the priorities in life should be and know not everything has to be perfect.
Hopefully next time Kourtney posts a photo with her kids, people will focus on her palpable dedication to parenting.
This first-time mom wants to have a home birth, but is she ready? Watch how a doula supports a military mom who's determined to have a home birth in Episode One of Romper's Doula Diaries, Season Two, below. Visit Bustle Digital Group's YouTube page for the next three episodes, launching every Monday starting November 26.