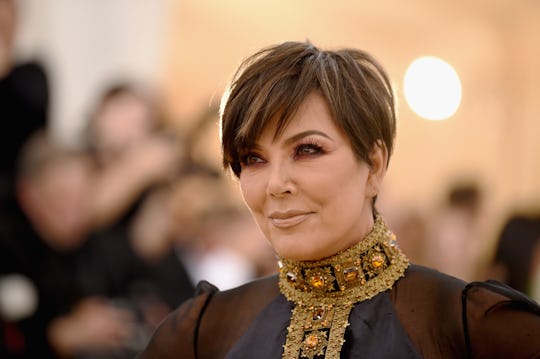 Jason Kempin/Getty Images Entertainment/Getty Images
Kris Jenner Says She Embarrassed North West At School, & Every Cool Grandma Will Relate
She's not like a regular grandma, she's a cool grandma. Though having the matriarch of the KarJenner family escort you to pre-school would be a fever dream for any normal person, it was recently more of a nightmare for North West. Kris Jenner embarrassed North at school by wearing her blonde wig, and TBH, it just goes to show that grandmas are gonna grandma, no matter how famous they are.
"Yesterday I took North to school and they had crazy hair day, so I wore a blonde wig — thinking I'd be the cool grandma, you know, at school," Kris, told Entertainment Tonight. "North was rolling her eyes, probably mortified that her grandmother wore a blonde wig. It was so funny! I mean, a crazy blonde wig."
The grandmother of nine, who is affectionately referred to as "Lovey" because she didn't actually want to be called "grandma," also noted that she feels fortunate to be so close to her family. "I'm so lucky because we all live very close to each other, so I get to see my grandchildren very often, like every day," she told ET. "It's just the best. You see them grow up and change and lose teeth."
Jenner has been transparent in the past about how much she loves being a mom and grandmother. "Being a mother is by far the greatest blessing. My children are my most precious gifts and I am so beyond proud of each and every one of them," she wrote on a Mother's Day tribute to her daughters last year. "To my angels @kourtneykardash and @kimkardashian, it brings me so much joy to watch you raise my beautiful grandchildren. You are both such incredible mommies and you teach us all daily about patience, selflessness and unconditional love."
In the time since then, Kim and Kanye welcomed another baby, as did Kylie Jenner and Khloé Kardashian. But before the world knew about the latter two pregnancies, Kris teased the news on an episode of Keeping Up With the Kardashians, on which she shared:
I used to pray that one of you guys would have a baby and now it's like a faucet that we turned on and won't turn off. The fact hat I have all these grandchildren, it's been the most amazing journey to watch your kids because it's truly the meaning of just life.
On a recent episode of The Ellen DeGeneres Show, Kris opened up about Khloé's pregnancy in particular, saying that she's an amazing mom and that she's really proud of her. "I get choked up, because she's such a good mom," Kris shared. "I was in Cleveland last week and it was snowing and she was all nuzzled in the nursery [with] her baby. She's just concentrating on that: being a mom, her baby... She's so excited about motherhood."
Though it's clear that Jenner loves all of her children and grandchildren equally, it seems she and North have a special bond. On her birthday last year, Jenner posted a few photos of her to Instagram, and shared the following:
Happy birthday to our beautiful, funny, smart little love bug, North. You bring so much light to our lives and I am blessed beyond words to have you as my granddaughter. It brings me so much joy to watch you grow up to be sweet and kind and loving... I love you so much my precious angel girl... Lovey xo
Even if she does occasionally embarrass her granddaughter at times, it's clear that the two play a really special role in each other's lives. In a few years time, fans can look forward all of North's stories about growing up with Lovey... they're undoubtedly going to be hilarious.