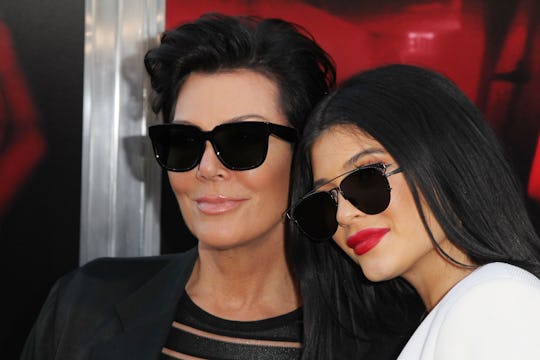 David Buchan/Getty Images Entertainment/Getty Images
Here's Why Kylie Jenner Kept Her Pregnancy A Secret For So Long, According To Kris Jenner
Kylie Jenner became one of the most famous women in the world by sharing everything about herself. It's no surprise, then, that fans were confused when pregnancy rumors hit the internet, and Kylie practically disappeared. Now her mother, Kris Jenner, has spoken out on why Kylie Jenner kept her pregnancy a secret for so long, and the reasoning makes total sense.
Kris is no stranger to publicly talking about her various daughters. After all, she's the ultimate "momager." (She even trademarked the phrase, according to Entertainment Tonight.) So of course when she went on the Australian radio show Kyle and Jackie O, she got right to discussing 20-year-old Kylie. Yes, some fans may have been upset when Kylie pulled a disappearing act — all they wanted was a pregnancy confirmation! Well, that plus regular bump pictures, sonogram updates, extravagant gender reveals, and tons of interviews in which Kylie talked through every thought flitting through her head during the pregnancy process! — but Kris made it clear that she really respected her daughter's decision to go a little off the grid.
"She wanted to do this on her own terms," Kris said, according to BuzzFeed. "It was a mature decision. She was on a life grind and working so hard. She wanted to do it really privately and enjoy every little bit of it. And now she has this beautiful baby."
Kris' explanation echoes what Kylie herself said, when she finally put months of rumors to rest, and announced that she had given birth to a baby girl, Stormi, with boyfriend Travis Scott. In a statement that the reality star tweeted three days after Stormi made her way into the world, Kylie said:
I'm sorry for keeping you in the dark through all the assumptions. I understand you're used to me bringing you along on all my journeys. My pregnancy was one I chose not to do in front of the world. I knew for myself I needed to prepare for this role of a lifetime in the most positive, stress free, and healthy way I knew how. There was no gotcha moment, no big paid reveal I had planned. I knew my baby would feel every stress and every emotion so I chose to do it this way for my little life and our happiness.
Sure, what the Kardashians and Jenners do may look easy. They post pictures of themselves, they chat about personal drama in front of a bunch of cameras, and they get paid millions of dollars to lend their fame to various products. But I also imagine that the constant self-promotion often makes it hard to slow down and enjoy whatever is happening at any given moment, without thinking about how best to package it for their followers. So it totally makes sense that with something life-changing like pregnancy, Kylie would make the big decision to take herself out of the constant public eye, and focus on actually experiencing the big change going on inside of her.
And in some ways, the constant speculation — coupled with the video that Kylie released after Stormi's birth, filled with all sorts of never-before-seen moments from her pregnancy — may have even increased the interest in Kylie's life, so there was another unintended bonus. (Or, let's be real, maybe it was totally intended. Those Jenners know how to work the spotlight.)
On Monday, a fan asked Kylie on Twitter how her mom reacted to her pregnancy news, and Kylie responded, "She was sooo supportive. I love my mama."
Kris' new interview makes it clear that she was totally onboard with how Kylie chose to handle the exciting, scary, and totally wild process of pregnancy. Now, fans just have to wait and see just how much Kylie decides to share now that little Stormi is in the world.
Check out Romper's new video series, Bearing The Motherload, where disagreeing parents from different sides of an issue sit down with a mediator and talk about how to support (and not judge) each other's parenting perspectives. New episodes air Mondays on Facebook.