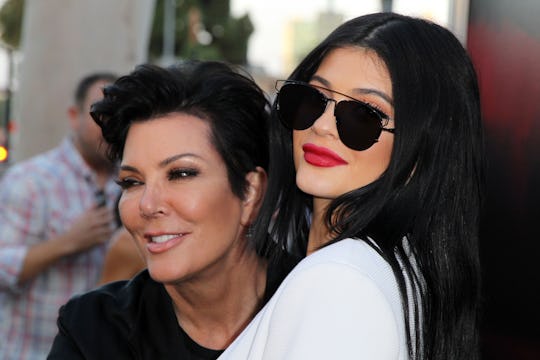 David Buchan/Getty Images Entertainment/Getty Images
Kris Jenner *Finally* Revealed How The Family Kept Kylie's Pregnancy Secret For So Long
Kylie Jenner went nine months without revealing to anyone in public that she was pregnant. Fans definitely had their suspicions that Jenner was pregnant (especially since word got out that she was expecting her first child around the time she was three months pregnant). But her very famous and social media savvy family members, including her mom, Kris Jenner, refused to confirm or say anything about Kylie's pregnancy. Now that Kylie gave birth last month and her pregnancy is no longer something to hide, Kris finally revealed how the family kept Kylie's pregnancy secret for so long and the answer is not as surprising as you may expect.
The Kardashian-Jenner family is super close with each other, in spite of the fights and drama that fans might see play out during episodes of their reality show, Keeping Up With The Kardashians. You can't deny how strong the family is and how supportive they are of each other, which you can see through social media and the interviews they give. Because of this, it shouldn't come as a surprise that the family is also great at keeping secrets.
During a red carpet appearance on Wednesday, Kris revealed to E! News how they were able to keep Kylie's pregnancy to themselves — by trusting that family bond, even if people in the family were sworn to secrecy. "You just have to go with the flow," Jenner said. "The family pact is 'don't say a word' so my lips were sealed."
When Kylie formally announced that she had indeed been pregnant for nine months this February and had given birth to a baby girl with boyfriend Travis Scott, fans were shocked that the couple were able to keep it a secret for so long. In a video posted to YouTube, Kylie showed fans what they hadn't seen — her pregnancy cravings, her doctors appointments, and spending so much quality time with her family. It's clear, from the video, that her family was more than supportive throughout the pregnancy.
Although Stormi has been in this world for one month and Kylie has since returned to social media (thank goodness), many members of the family are still keeping quiet about how they were able to not tell anyone about the news.
Family friend and Real Housewives of Beverly Hills star, Kyle Richards revealed during an episode of Watch What Happens Live that she knew about Kylie's pregnancy before Kylie gave birth. But like the family members, was able to keep it a secret, according to Us Weekly. "Friends just don't do that kind of a thing," Richards said, according to Us Weekly. "It was a given thing."
While her sisters haven't spoken about how they were able to keep Kylie's pregnancy a secret, they were there to congratulate her on social media when she finally made the announcement. Older sister Kim Kardashian took to her website where she commented about how excited she was for Kylie. "I am so proud that you do what you want to do and live your life the way you want, you will pass down all of those amazing qualities to your baby girl," Kim wrote. "You were made to be a mom!"
When it comes to your family, there are some things that you just don't tell other people and don't want people to know about. Kylie's pregnancy was just one of those things for the Kardashian-Jenner family and you can't blame them for wanting to keep it a secret. In Stormi's birth announcement on Instagram, Kylie did explain to fans that she needed her pregnancy to be a secret for herself and Stormi. "I appreciate my fans and especially my family for helping me make this special moment as private as we could," Kylie wrote.
No one should ever doubt the Kardashian-Jenner family's ability to keep a secret and trust one another. Especially after they did a terrific job at hiding Kylie's pregnancy for so long.