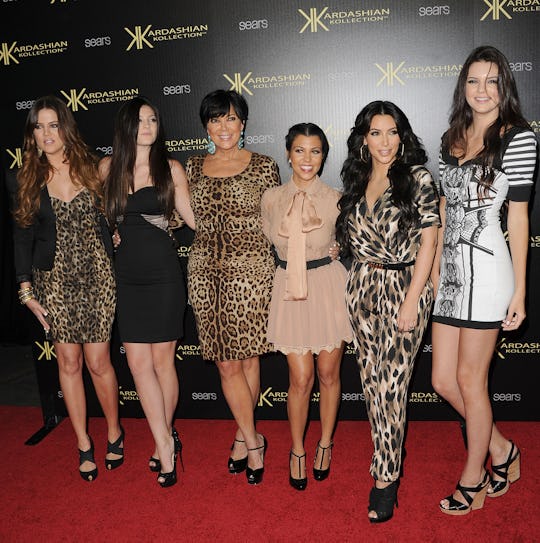 Kris Jenner Had A 'Great Gatsby' Themed 60th Birthday, & You Need To See The Pictures
It's been a tough year for the Kardashian family. Not only did Kris Jenner and Caitlyn Jenner divorce in late 2014, but the reality TV family was thrust into the spotlight in the worst possible way last month when Khloé Kardashian's ex, Lamar Odom, was hospitalized after he was found unconscious in a Las Vegas brothel. So, let's face it, they deserved a good night out. And, on Friday night, they got just that, at least based on photos from Kris Jenner's Great Gatsby-themed birthday party.
The fete, which reportedly cost a pricey $2 million and included over 300 guests (or 250, depending on the source) was worthy of Leo and a martini, indeed — throughout the evening, Kylie Jenner and Kourtney Kardashian uploaded images from the party, and, suffice to say, their wardrobe most definitely demanded a few more dollars out of their emptying wallets. (Insert fly money emoji here.) 
The best look of all? Though Kylie, with boyfriend Tyga in hand, looked absolutely stunning (and even boasted a change in clothes), Kourtney's Gatsby role-play beats them all. Look at this girl slay.
And though the elusive Rob Kardashian didn't make it to the bash — as People reported via a source earlier on Friday, "It will be a last-minute decision for Rob. But he knows how much everyone wants him to be there" — Kendall Jenner did a mean Daisy:
And Kylie, with Tyga and Malika Haqq, gave us no shortage of an inside look at the party (and the inside of her closet):
Click here to see how Kim Kardashian and birthday girl Kris Jenner channeled the 1920s, and how Khloe Kardashian managed to pull off a sparkly beret. And let's all toast this level of commitment.
Images: Jason Merritt/Getty; kourtneykardash, kyliejenner/Instagram; Giphy