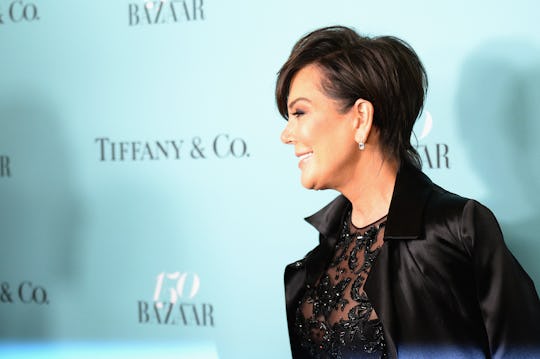 Andrew Toth/Getty Images Entertainment/Getty Images
Why Kris Jenner Is Worried For Her Grandkids
Being in the public eye is no easy feat. And while you're free to say what you want about famous families, celebrities still struggle with their own problems, and they aren't all as trivial as many may assume. Privacy, especially, is a huge concern for just about anyone of public interest. And when kids get involved, privacy takes on a whole new level of importance. Dealing with paparazzi and anonymous trolls online has become such an issue that many celebrities have chosen not to share any personal information or photos of their kids at all, for fear of what might happen. The latest example of celebrities worrying about the kids in their life? Kris Jenner, who's concerned her grandkids will be bullied just because of their family name, and that's a serious problem.
Speaking with fellow celebs RuPaul, SallyAnn Salsano, Leah Remini, and W. Kamau Bell, Jenner spoke about the way her family dealt with being attacked online, and what it's like to live you life constantly on camera. In a candid comment during "Reality TV Roundtable" for The Hollywood Reporter, 61-year-old Jenner discussed one of her biggest fears as a grandma: that bullies will target her grandchildren because of their family's name and fame.
"It's my grandchildren who I worry about because I have six of them," she said, referring to the enormous amount of criticism and bullying the family deals with. "The oldest just turned 7, and my youngest is 6 months old, and they don't have a choice. And I worry, I do, because it is such a bullying environment."
When the show first premiered in 2007, social media was still somewhat new. So much so, that Jenner recalls producer Ryan Seacrest informing Jenner's daughter, Kim Kardashian, that maybe she might want to check it out. "Ryan Seacrest, my producing partner," she said, "had told [my daughter] Kim about this little thing called Twitter, which she might be interested in." And as we all know, that was just the beginning.
Now, of course, pretty much everyone and their grandma is on Facebook, Twitter, and Instagram, and bullying has taken on a whole new form. Hopefully, Jenner's grandchildren won't have to deal with the kind of bullying that the rest of their family does, especially when they're so young. Because no one deserves the kind of treatment, especially not innocent kids.
No matter what you might think about their parents or other family members, the youngest Kardashians deserve privacy, kindness, and respect. Period.