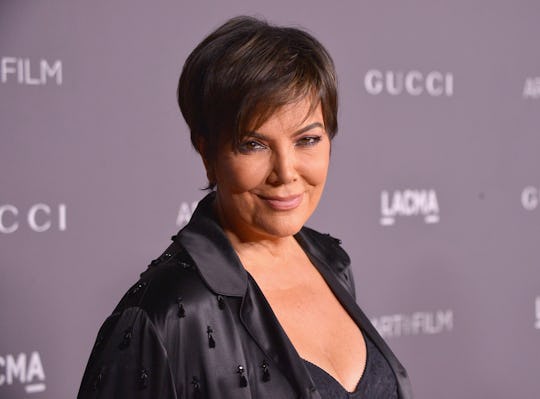 Charley Gallay/Getty Images Entertainment/Getty Images
Kris Jenner Is Reportedly Helping Out With Baby Stormi, Proving How Important Grandmas Can Be
Bringing home a newborn for the first time is like embarking on an exciting adventure into the great unknown. It's thrilling, yes. But it can also terrifying because, unfortunately, newborns don't come with a manual. Is the baby eating enough? Should I be concerned that she hasn't pooped at all today? Is it normal for him to make baby dinosaur noises while he's sleeping? These questions and more will be asked as parents gain confidence (and practical experience) in their new role. And sometimes, it can be helpful to have a seasoned pro on hand for the first few days as a go-to for baby wisdom, and celebrities are no exception. As it turns out, Kris Jenner is helping out with baby Stormi, because sometimes a grandparent's sage advice can mean everything.
As you've probably heard by now, Kris Jenner's youngest daughter, Kylie, 20, recently welcomed a baby girl with her boyfriend, Travis Scott. People reported the reality star took to social media on Super Bowl Sunday to announce her daughter's arrival — which confirmed the pregnancy rumors that had been rampant since September. Baby Stormi was born on Feb. 1, making her just under two weeks old now. And as Us Weekly reported, grandma Kris has reportedly been on-hand to help Kylie navigate these first few weeks of new motherhood. "Kris has been spending a lot of time at Kylie's house since she came home with Stormi," a source told the publication. "Kylie has been a natural at being a mother. However, it has been overwhelming, and Kylie has relied on Kris during these first days at home with Stormi." The sourced added:
Kris is providing advice and, of course, an extra set of hands to help with Stormi.
It's hard to argue that Lip Kit mogul Kylie Jenner has a lot more resources at her disposal than the average new mother. But she's still human, and she still needs her mom. Aside from grandma Kris's moral support, it seems Kylie has plenty of assistance with baby Stormi, the Daily Mail reported. That's because the new mama has reportedly hired a baby nurse to help with the logistics of caring for her little one. Which hey, good for her. New parents need all the help they can get.
Although it's been a while since Kris has had a newborn of her own, I'm guessing she's enjoying those warm, sweet-smelling newborn cuddles while helping Kylie out in the process. Not only is having grandparents around to the advantage of new parents and babies, but the grandparents themselves also reap some serious benefits, as HuffPost reported. A small study, for example, showed that grandmothers who care for their grandchildren once a week might have a lower risk of developing Alzheimer's. All the more reason to make sure to get that weekly quota of grand-baby time!
At 23, I wasn't quite as young as Kylie Jenner when I had my first child. Still, my mom drove down when I was in labor and planned on staying the night at our house for a few days to help out. She went grocery shopping and stocked up our refrigerator while I was still in the hospital recovering with my little guy. However, she only ended up staying one night. Because as it turned out, my husband and I had everything under control. I'm glad my mom realized this and returned to her own home after that first night — without us having to point out we were doing just fine. Still, it felt nice having her there for moral support during that initial transition. The bottom line: Although there are clear benefits to grandparents hanging around after a baby is born, it's best that they make sure to communicate with the parents beforehand to see their needs are.
As far as the Jenners are concerned, it seems like Kris is exactly where she needs to be right now: Bonding with her sweet granddaughter while supporting Kylie as she establishes herself in one of the most important roles she'll ever have — motherhood.
Check out Romper's new video series, Bearing The Motherload, where disagreeing parents from different sides of an issue sit down with a mediator and talk about how to support (and not judge) each other's parenting perspectives. New episodes air Mondays on Facebook.