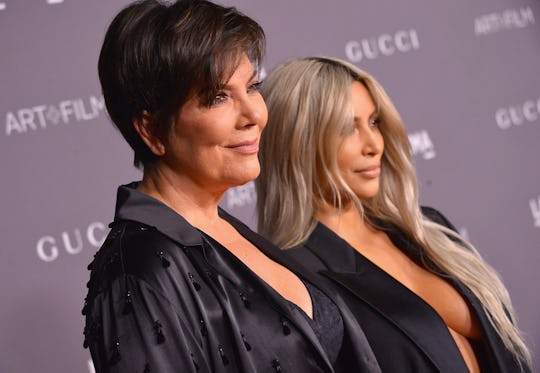 Charley Gallay/Getty Images Entertainment/Getty Images
Kris Jenner Memes About Kim Kardashian's 3rd Baby Are Hilarious & Spot-On
Keeping Up with the Kardashians star Kim Kardashian may have been the one to welcome a new baby on Monday, but the real star of the show — according to some fans — was mom and manager Kris Jenner. Kris has long been considered the mastermind behind all things KUWTK, and Kim's baby announcement came on the heels of Khloé Kardashian's pregnancy announcement on the show, Kylie Jenner's endless disappearance, and non-stop rumors about Kim's possible surrogate. So, of course, there's been no shortage of Kris Jenner memes about Kim Kardashian's baby on Tuesday, with plenty of fans convinced that Kris is the ultimate media manipulator.
A good portion of fans think it's no coincidence that the Kardashians are blowing up our phones with notifications at the moment. Since September, rumors have swirled that Kylie is pregnant, but the Kardashians (and Jenners) have refused to confirm or deny the reports. On top of that, Khloé kept her own pregnancy — also first reported on in September — under wraps for a few months before she finally revealed her bump in late December. And it wasn't until September that Kim confirmed her own pregnancy via surrogate.
Naturally, fans are finding it hard to believe that these three pregnancies just happened at the same time by accident. Even if they did, theorists say, Kris must be very carefully orchestrating what to reveal to the media and exactly when to do it in order to get maximum viewership for Keeping Up with the Kardashians. Sneaky? Maybe. An excellent business move? Definitely.
Of course, the memes are mostly just good fun — but they do speak to Kris' skill as a fantastic "momager." After all, Kris manages the careers of all six of her children, which means she's knowledgeable about Kendall Jenner's modeling career, Kylie's cosmetics empire, Khloé's Revenge Body show, and all of the sisters' various apps and projects.
And that's all on top of Kris' work growing Keeping Up with the Kardashians, which started as a small reality TV series in 2007 and morphed into something else entirely today. The show has now had nine spin-offs in total, been aired in 167 countries, and brought in hundreds of millions of dollars, according to The Hollywood Reporter. On an average Sunday, 2.1 million people tune in to watch the drama unfold. Whether you love the Kardashians or hate them, it's impossible to deny that Kris is an absolute genius.
In the past, Kris has said she never plans to retire. "I love my kids more than anything, and it gives me such joy to see that they're following the path they love," she told People in November. She continued:
They're all really smart kids with amazing work ethics. That makes my job heaven because I don't have to babysit anybody. They're telling me, "Let's do more. Faster. Bigger." ... I sometimes feel like a bit of a fireman because I'm always putting out fires. So it's kind of got a double-edge sword. But it's exciting. And I love it. It's very satisfying.
Part of being a "momager" is being a public relations whiz. Judging by the timing of reports that Kylie was going into labor (Friday), Khloé's pregnancy announcement on Keeping Up with the Kardashians (Monday), the birth of Kim's third child (Monday), and Kim's announcement of that birth (Tuesday), it seems like Kris and the rest of the Kardashian-Jenner gang have their announcement (and show scheduling) game down to a tee.
Regardless of whether the timing was finely orchestrated by Kris, the birth of a new daughter into the family is clearly happy news for everyone involved. Congratulations to Kim, West, and the rest of the family!
Check out Romper's new video series, Romper's Doula Diaries:
Watch full episodes of Romper's Doula Diaries on Facebook Watch.