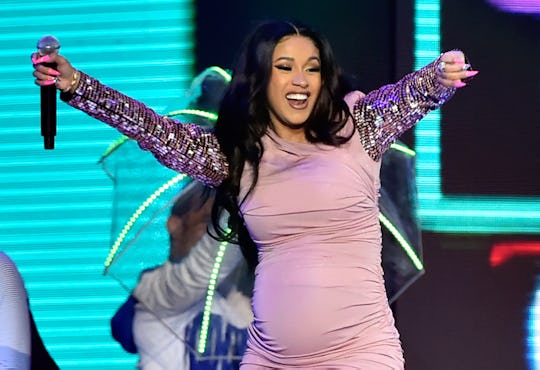 David Becker/Getty Images Entertainment/Getty Images
Kris Jenner Offered To Be Cardi B's Midwife, & OMG It Would Be So Epic
Cardi B may be nearing her due date, but it's clear she still has plenty of money moves left in her — even with a nearly full-term bump. (And some might even argue that her dance moves are actually enhanced by her pregnancy.) In a recent Instagram post, the "Bodak Yellow" singer can be seen flaunting her bump while lip-syncing and dancing to her hit single, "I Like It." Even better? In the comments section, Kris Jenner offered to be Cardi B's midwife, and OMG, that would totally be epic.
On Monday, the 25-year-old rapper shared a video of herself busting some serious moves — and it's pretty clear she's enjoying the final stretch of her pregnancy. "HAPPY ! HAPPY1 HAPPY!," Cardi B captioned the clip, Us Weekly reported. Needless to say, her Instagram followers went wild for it. "Cardi over here slaying ," one person commented. "Go pregnant mommy!!!" another follower wrote. Others were seriously envious of the singer's skills while nearly at the full-term mark in her pregnancy. "I wish I had your energy! 29 weeks and I cannot deal lololol," one follower commented.
"Literally the cutest pregnant woman I've ever seen in my life," another person wrote.
Yet another follower commented, "Still got all that cardi energy even while pregnant.....This is why I love Cardi B"
Another person chimed in with, "Hope I'm this sassy when I'm pregnant."
It's worth mentioning that Cardi B's impressive moves weren't the only noteworthy part of this particular Instagram post. Because not only did she attract likes from both Kim Kardashian and Kylie Jenner, but Kris Jenner took it a step further by commenting on it, People reported. "Wait can I be the mid wife ??" Jenner offered. "Just thinking this through …." Whoa. But seriously, how epic would it be to have Kris Jenner in the delivery room with you? Plenty of Cardi/Kris Jenner fans had feelings about the possibility — ranging from shocked, to totally for it, to "hell no."
"Kris Jenner asked Cardi B if she could be her Mid Wife," one Twitter user wrote, along with a shocked, "Starry Night"-esque emoji.
"I need this kind of encouragement in a midwife," another person tweeted, alongside a GIF of Kris Jenner saying, "Kim, you're doing amazing sweetie," as she poses for a photoshoot.
Yet another Twitter user wrote, "But... I'm lowkey here for it. Cardi B's pregnancy special featuring kris Jenner."
Another person tweeted, "Can Kris Jenner please just sit down already!!"
Interestingly, this isn't the first time Jenner has joked about being a midwife to a celebrity. Back in 2011, she offered her services to former Spice Girls member Mel B. during Kim Kardashian's wedding to Chris Humphries, if she happened to go into labor, according to Contact Music. In case you're wondering, no, Jenner isn't actually a certified midwife — even if she has traditionally attended the births of her daughters. Perhaps in another life, the momager could have been a midwife?
For the record, Cardi B's jammin' video was posted the same day she confirmed that she and Offset had secretly married back in September. On Tuesday, the mom-to-be took to social media to confirm her marriage status, E! Online reported. "There are so many moments that I share with the world and then there are moments that I want to keep for myself!" she wrote. "Getting married was one of those moments!" Cardi B continued:
We found someone to marry us, and she did, just the two of us and my cousin. I said I do, with no dress no make up and no ring! I appreciate and love my husband so much for still wanting for me [to] have that special moment that every girl dreams of when he got down on his knee and put a ring on my finger and he did that for me!! Well now since you lil nosey f*cks know at least ya can stop saying I had a baby out of wedlock.
I think it's safe to say Tuesday was an epic social media day for Cardi B — between fans finding out that she's been secretly married all this time, to Kris Jenner offering to be her midwife. Although it doesn't seem the mom-to-be has responded to Kris Jenner's offer yet, she better make a decision soon. Her due date is reportedly the first week of July, after all. Before we know it, Baby Bardi will be here!