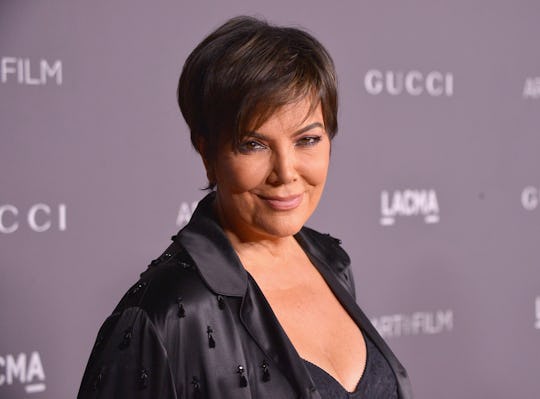 Charley Gallay/Getty Images Entertainment/Getty Images
Fans Will Be Psyched About This New Detail Kris Jenner Revealed About True Thompson
They say that "mother knows best" but it really should be changed to "Kris Jenner knows best." After all, she is the head of her very famous family and knows all there is to know about her very famous daughters, the Kardashians (and their equally as famous children). Take Khloé Kardashian, for example (who has been keeping a low profile), and her month old daughter, True Thompson. In a new interview on Thursday, Kris Jenner revealed a new detail about True Thompson that fans will be super happy about, especially since Kardashian has been keeping some things private during this first month of motherhood.
Of course, Kardashian has still been keeping fans updated about her life as a new mom through her website and on social media, where she has posted about what surprises her about motherhood, talked about True's schedule, and revealed her decision behind her daughter's name, according to Us Weekly. But this isn't enough for a lot of fans, who waited forever for Kardashian to get pregnant and then finally give birth. Which is why it is so great that Jenner is able to speak about Kardashian's life as a mom and answer the questions that everyone is probably dying to know — like, how is Kardashian and True doing? And will they ever move back home to be with their family?
Thankfully, Jenner was there to give out all of the answers during an appearance on Thursday. In a new interview with E! News, Jenner revealed that Kardashian is the "best mom in the world" (no surprise there). "She's had a lot of practice with her nieces and nephews," Jenner said. "I think it's a dream come true for her."
No pun intended — Kardashian had stated for years how she wanted to be a mom, according to Entertainment Tonight, and this past April she finally got her wish after giving birth to True with her boyfriend, Tristan Thompson, according to CNN.
In case fans haven't been keeping up with Kardashian and True, they might not know that Kardashian has been living in Cleveland, Ohio, where True's dad lives and plays basketball for the Cleveland Cavaliers. And although motherhood might be a dream (with True) for Kardashian, some fans are eager for Kardashian to reunite with her mom and the rest of her siblings in Los Angeles, California, where they are based out of. The good news is, Jenner revealed to E! News on Thursday that Kardashian might be seeing a move in her near future. "She'll be home soon," Jenner told E! News.
In a new interview with Us Weekly, Jenner added more fuel to this fire by confirming that Kardashian's move back home is imminent (and permanent once she does make her way to Los Angeles). "She'll be home soon, so it's really great," Jenner said.
This is super exciting and something that fans have waiting to hear for months since Kardashian initially moved to Cleveland. Not only does this mean that Kardashian will have another nursery to decorate (which means more styling tips from the new mom), it also means that with the family reunited, they'll be able to shoot another season of their reality show, Keeping Up With the Kardashians. And who doesn't want to see the Kardashians (and all of the new babies) together on screen? I know I do.
In the mean time, until Kardashian makes her big move out to Los Angeles "for good," according to Us Weekly, the two of them are keeping in touch. "We go back and forth," Jenner told E! News. "I FaceTime with her every day. So that's a lot of fun."
But it's not like Kardashian isn't enjoying her time in Cleveland. Kardashian revealed on her app and website on Wednesday that she has gotten back into working out (and even flew out her trainer Coach Joe from Los Angeles to Cleveland), according to People. Although she wrote that working out hasn't been the easiest for her during her postpartum recovery, she gets "one step closer" each day to getting back into the swing of things. Once she gets back to Los Angeles for good, things will likely get back to normal.
Kardashian's move back home to California is only in a matter of time.