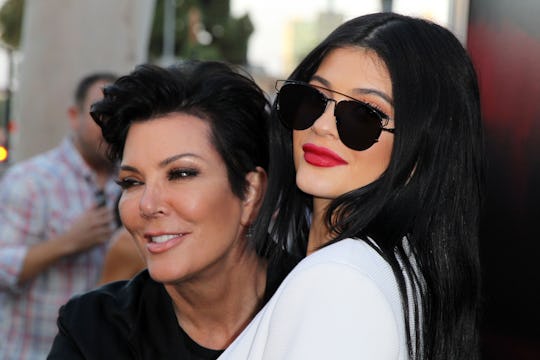 David Buchan/Getty Images Entertainment/Getty Images
Kris Jenner Revealing She Helped Deliver Baby Stormi Proves She's A Hands-On Grandma
Deciding who will be in the delivery room during childbirth is a very personal one for expecting women. For many moms-to-be, having anyone other than their partners seems odd. While others appear to take a "the more, the merrier" approach. As long as couples consider hospital/birthing center policies — as well as their own comfort levels — there's really no wrong way to bring a child into the world. With that said, Kris Jenner revealing she helped deliver baby Stormi pretty much proves she's a hands-on grandma.
Yep, you read that correctly. Not only was Kris Jenner present to watch her youngest child give birth, but she also physically took part in the process. A clip from an upcoming episode of Keeping Up with the Kardashians revealed that the momager was the one who helped bring Stormi into the world, E! Online reported. In the clip, Kourtney Kardashian asked Jenner how Kylie fared during labor. "She did really, really well," Kris shared. "She just kept saying, 'I just don't feel any pain' and you'd see these contractions like crazy and she would go, 'I'm just not feeling it' and I'm like, 'This is really weird.'"
According to People, the proud grandma went on to add, "I delivered the baby!" To which Kourtney replied, "She told me."
"I didn't hear that," Kim Kardashian replied, looking surprised.
"I delivered the baby. I pulled her out," Kris confirmed.
"Ew," Kim said, while wrinkling up her nose.
LOL. "Ew" isn't exactly the way I would put it. More like, "Whoa, that's one bad*ss grandma."
For the record, Twitter seems to be pretty impressed with Kris Jenner's skills. One person tweeted, "Wow @KrisJenner actually delivered Stormi @KylieJenner."
Another Twitter user wrote, "@KrisJenner delivered Stormi? I stan a multitasking manager."
As USA Today reported, after months of speculation, Jenner finally confirmed her pregnancy on Super Bowl Sunday — with a birth announcement. "I'm sorry for keeping you in the dark through all the assumptions. I understand you're used to me brining you along on all my journeys," Jenner wrote on Instagram and Twitter on Feb. 4. "My pregnancy was one I chose not to do in front of the world. I knew for myself I needed to prepare for this role of a lifetime in the most positive, stress free, and healthy way I knew how."
Jenner also shared an 11-minute video titled "To Our Daughter" chronicling her pregnancy journey — and leading up to baby Stormi Webster's big arrival, Us Weekly reported. Little did fans know at the time the big role played by grandma Kris Jenner.
When I was pregnant with my first baby, my husband and I already knew it would just be the two of us in the delivery room — and that's it. (If fact, we didn't even want family members waiting around at the hospital while I was in labor.) I definitely did not want an audience; even the idea of either of my parents watching a tiny human emerge from my birth canal did not sound appealing in the slightest. We kept the same arrangement for our second and third children. And we have every intention of it being a private affair with baby number four in January. With that said, I was always totally open to having medical students in on the action. (Which seems kind of backwards, doesn't it?)
Still, I think it's totally awesome that Kris Jenner had the opportunity to help deliver Stormi. She and Kylie clearly have a very close relationship — and it must have felt amazing playing a part in bringing her granddaughter into the world.