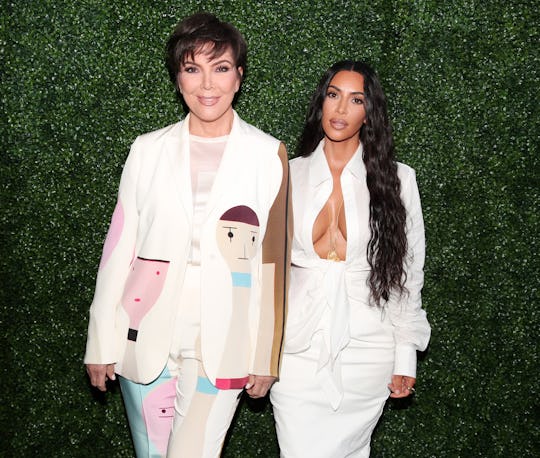 Christopher Polk/Getty Images Entertainment/Getty Images
Kris Jenner Says Kim Kardashian Is An "Energizer Bunny" Balancing Work & Kids
No matter who you are or how much help you could potentially employ (though, alright, that does kind of make a big difference), parenting multiple young children is no easy feat, as any parent who has done it can attest. In a recent interview, Kris Jenner said Kim Kardashian is like any other mom trying to keep up with three little ones, commending her not only for how much energy she has, but how well behaved her 6-month-old daughter, Chicago, is.
In an exclusive interview with Us Weekly, Jenner said: "She's really lucky because Chicago's such a good baby. She's so calm and sweet. I mean, she's just beautiful." She continued: "Kim is the energizer bunny. I don't know where she gets her energy, but she's non-stop. Once she puts her kids to bed, she's still working, and I think that's how she gets everything done."
As fans of the famous family know, three of Jenner's daughters welcomed new babies within close succession of one another this year, which she also addressed. Talking about newborn True Thompson, Jenner said: "This little girl is so precious and she's the light of Khloé's life. She's a really good mommy and I knew she would be. But then to see it all unfold and happen, it's really something else."
Earlier this year, Kardashian and her husband, Kanye West welcomed their third daughter via gestational carrier, Us Weekly also reported. Kardashian explained to fans why she chose not to carry another baby on her website: "I have always been really honest about my struggles with pregnancy. Preeclampsia and placenta accreta are high-risk conditions, so when I wanted to have a third baby, doctors said that it wasn't safe for my — or the baby's — health to carry on my own," she said on her website. She continued:
After exploring many options, Kanye and I decided to use a gestational carrier. Although I have used the term surrogate in the past, a gestational carrier is actually the technical term for a woman who carries a baby that she has no biological relationship to. A traditional surrogate donates her egg, is artificially inseminated with the father's sperm and then carries the baby to term. Since we implanted my fertilized egg in our gestational carrier, our baby is biologically mine and Kanye's.
Interestingly, this is not the first time in recent history that Kardashian's work ethic has made headlines. In a blowout argument she had with sister Kourtney Kardashian on a recent episode of Keeping Up With the Kardashians, Kim argued that Kourtney was "selfish," The Daily Mirror reported, saying that she should be more understanding of her sister's demanding schedule.
But either way, it's never been more clear that Kim loves being a mom. "It is an adjustment trying to balance a career and motherhood for sure, but the key is to prioritize," Vogue reported she said. "You become more selective and work on projects that are so meaningful because you want every other waking moment spent with your family. You have to remember though to make time for yourself. If you feel good, you will be happy in your career and family life and everyone is happy!"
Despite her demanding schedule, Kim has also emphasized the importance of making time for yourself. "I get up and work out every morning. I know that I don't feel as good as I could feel if I don't, and you want to feel your best so you can give to everyone else," she told MailOnline. Be that as it is, it's evident that Kardashian's life is more full than ever. She's living proof that women can have, and do, it all.