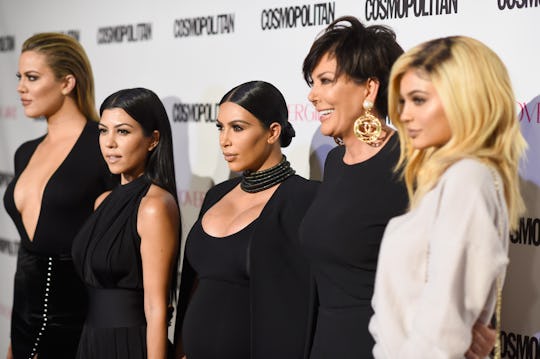 Frazer Harrison/Getty Images Entertainment/Getty Images
Kris Jenner Says She's *Finally* Getting Payback On Her Daughters For This Reason
Before Kris Jenner was a "momager" a.k.a managing the careers of her super successful children and appearing on their reality show, Keeping Up with the Kardashians, Jenner was just a mom to six kids. Both of those jobs are hard in their own ways, and in a new interview, Jenner revealed that being a mom to her daughters wasn't necessarily the easiest when they were younger. Now that her daughters are growing up and starting families of their own, Jenner said that she is finally getting payback since her daughters have their own kids to deal with. Nothing like the sweet revenge of parenting.
Before Keeping Up With the Kardashians first aired on E! 10 years ago, Jenner kept herself quite busy. Jenner, according to Entertainment Weekly, was managing her daughter's burgeoning career and running her own production company Jenner Communications, in addition to managing her ex-husband's speaking career and personal appearances, according to The Hollywood Reporter. At the same time, she was still a mom to her grown children — Kourtney, Kim, Khloé, and Rob Kardashian, with ex-husband, Robert Kardashian, as well as her younger daughters, Kendall and Kylie Jenner with her ex, Caitlyn Jenner.
Although cameras were unable to get a glimpse of what life was like in the Kardashian-Jenner household when all of her children were teenagers, from the sound of it, it wasn't necessarily the easiest experience for Jenner. During an appearance on Live! With Kelly and Ryan, on Friday, Jenner revealed that her children are going to pay for the things they put her through when raising their own kids and that she has "put a curse" on her kids with the hopes that their children are just as bad. "Payback's a b*tch," Jenner said, according to E! News.
Isn't that the truth?
Considering five out of six of Jenner's children are parents, there is a lot of "cursing" to go around. Both Kourtney and Kim have three kids each, while Rob welcomed his daughter, Dream, last year. This year was a particularly busy year for Jenner as a grandma — both Khloé and Kylie gave birth to their first kids just months apart, according to Vogue. And if their kids are anything like how they were growing up, then they are in for a treat.
During her appearance on Live! With Kelly and Ryan, Jenner revealed that Khloé was the child who kept her up the most with worry, according to E! News. "Khloé would sneak out at night when she was a teenager and I don't think she could even drive yet," Jenner said, according to E! News. If this is true, Khloé is in for a surprise when it comes to raising her daughter, True, during those teen years (no pun intended).
But just because Jenner wishes karma would get her children back for putting her through the worst of it as a mom doesn't mean she wishes the worst for them or her grandkids. On this past International Women's Day in March, Jenner revealed on Instagram that she is so proud of all of her daughters and the moms that they have become (and have yet to be), according to the Daily Mail. Jenner wrote in the photo's caption:
I am so proud of my girls and their hearts and what amazing moms they are and how they get up and do their best every single day...they share, they give back, they care...they are my best friends and my angels!
And even though she is confident in her daughters' ability as parents, Jenner revealed, during an interview with The Hollywood Reporter, that she fears for her grandchildren — only because they will grow up in the public eye and have to deal with bullies and backlash from the show, according to People.
Although raising kids might be scary and the Kardashian-Jenner grandkids might be a handful when they get older — at least they'll always have their grandma. And who wouldn't want Jenner as their grandma? She's smart, loving, and has had plenty of experience with their parents to be full of some great advice.