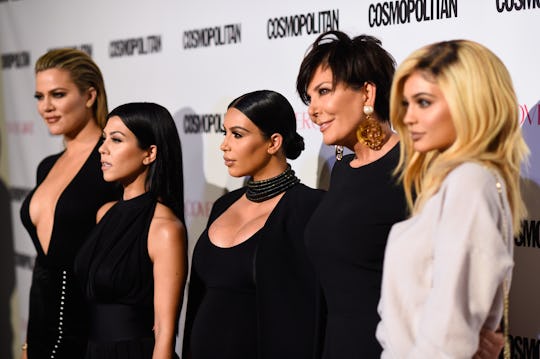 Frazer Harrison/Getty Images Entertainment/Getty Images
Don't Freak Out, But Kris Jenner Says A Grandkids Spinoff Isn't Gonna Happen
You can't deny that Kris Jenner has built an empire. The manager and mom of six gave birth to the Kardashian empire in more ways than one. Without Jenner, there would be no Kylie Cosmetics, Keeping Up With The Kardashians, or Kim Kardashian. But just because she can turn everything into gold doesn't mean that she wants to. On the heels of three new reported pregnancies in her family, Kris Jenner said that a spinoff about her grandkids is out of the question, unfortunately.
It's understandable as to why anyone would ask Jenner about a potential spin off with her grandkids. After all, Jenner reportedly has three more on the way. Earlier this month, People confirmed that Kim and husband Kanye West were reportedly expecting their third child through a surrogate, who is reportedly due early next year. Then late last week, TMZ sources confirmed that Kris' youngest daughter, Kylie Jenner, is reportedly expecting her first child with her boyfriend Travis Scott. And to top it all off, People reported on Tuesday that daughter Khloe Kardashian was reportedly expecting her first child with boyfriend Tristan Thompson. Talk about an incredibly exciting moment for the family.
One would expect that Kris, who is already grandmother to six grandchildren would be more than happy to capitalize on this moment with her third generation. But that isn't the case.
In a recent interview with Variety, Kris said that there won't be a spinoff featuring just the grandkids any time soon:
I think that's kind of pushing the envelope. I think it's a little too early to start thinking about them. They're amazing and when they're around they are in the show but I think it's a little too early for them to have any kind of spinoff.
But just because it's a little too early to discuss a spinoff right now doesn't mean that they won't be the stars of a future spinoff. Kris certainly has had success with producing spinoffs — from Kourtney and Khloe Take Miami to Life of Kylie. The sheer amount of them show that people can't get enough of watching the Kardashians. With all of the buzz surrounding the reported growth of her family, its only natural for people to expect her to capitalize on it.
But like most grandmothers, Kris is fiercely loyal to the youngest members of her family. In an interview with The Hollywood Reporter in June, Kris revealed that she worries for her grandkids, telling the magazine, according to People:
It's my grandchildren who I worry about because I have six of them; the oldest just turned 7, and my youngest is six months old, and they don't have a choice. And I worry, I do, because it is such a bullying environment.
I don't blame Kris for making these comments. Her grandchildren are so young and never asked to be in the public eye. With Keeping Up With The Kardashians being on air for a decade, fans are literally seeing the littlest Kardashians grow up right in front of their eyes. With as much conversation surrounding the most recent reported pregnancies in the Kardashian empire, the last thing that Kris wants to do is thrust them into the public eye and have them face even more scrutiny.
That being said, while a spinoff with her grandkids is out of the question, Kris said that the family will continue to film Keeping Up With The Kardashians for years to come. Kris revealed to Variety that she, along with her kids and grandkids, love filming the show:
There are so many wonderful milestones that we've been able to share with our viewers and fans. It's kind of fascinating. It's something that we've been comfortable with and we're used to.
There are plenty of milestones that Keeping Up With The Kardashians cameras have caught on tape. And hopefully there are many more to come with these new reported pregnancies. I for one, can't wait to tune in for the next 10 years and watch these grandkids grow up while they're at it.
Watch Romper's new video series, Romper's Doula Diaries:
Check out the entire Romper's Doula Diaries series and other videos on Facebook and the Bustle app across Apple TV, Roku, and Amazon Fire TV.