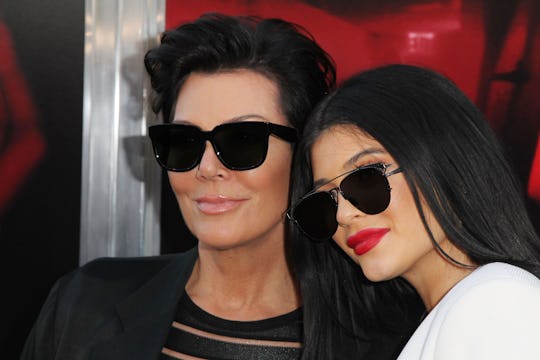 David Buchan/Getty Images Entertainment/Getty Images
Can We All Agree That Kris Jenner's Advice To Kylie About Being A New Mom Is Total BS?
At one point or another, most moms and dads have probably received a particular bit of wisdom about parenting. Whether it's from a family member, a friend, or a stranger, this cliche line is probably well-meaning. But for some reason, the advice can leave an lingering feeling of resentment. (At least in my experience.) Maybe it's because the sentiment tends to come at the most chaotic moments in time — while waiting in line at the grocery store as the baby is fussing, your toddler is throwing himself on the ground and your pre-schooler is whining about a snack. (Or maybe I'm just a big grouch.) The way I see it, Kris Jenner's new mom advice to Kylie is sweet, but it misses the mark just a tiny bit, and it's something parents should talk about more.
As fans of the Kar-Jenner family are already well-aware by now, Kylie Jenner finally confirmed the fact that she was pregnant all this time — in fact, she delivered her baby on Feb. 1! (Cue: Internet losing its ever-loving mind.) "I'm sorry for keeping you in the dark through all the assumptions," Jenner wrote on Instagram and Twitter, reported People. "I understand you're used to me bringing you along on all my journeys. My pregnancy was one I chose not to do in front of the world." Not only did Kylie take to social media to explain the reason behind her silence and announce the birth of her yet-unnamed daughter, but the Lip Kit mogul also gifted fans with an 11-minute video of her pregnancy journey.
Not long after Kylie posted the epic video, grandma Kris finally broke her silence about her youngest daughter's pregnancy and new motherhood, E! Online reported. "God is SO good!!" she wrote on Twitter. "I am so excited and thrilled to welcome another precious baby girl to our beautiful, ever growing family. We are blessed beyond belief!"
Later on Super Bowl Sunday, Us Weekly caught up with Kris Jenner at Rachel Zoe's Los Angeles Presentation and Dinner. Jenner agreed that she has had "a lot going on" in recent weeks, but that she's overjoyed to have recently welcomed two new grandchildren. "I enjoy what I do and I am obsessed with my family so it makes it really easy," she told Us Weekly.
If you remember, Kylie's older sister Kim Kardashian and her husband Kanye West added a baby girl named Chicago to their family on Jan. 15 via a gestational carrier, reported TMZ.
Plus, Khloé Kardashian confirmed in December that she is expecting her first child with Tristan Thompson, People reported.
Kris Jenner also shared with Us Weekly the best advice she's given Kylie one motherhood. "Enjoy every second," she told the publication. And there it is, folks. The cliche "Enjoy every moment." Look, I realize the advice is coming from a place of love and experience. I mean, Kris Jenner has raised six children, and they're all grown now and having babies of their own. I'm guessing that maybe some days, she misses when they were all little and still living at home. But honestly, I think she may be looking back at their childhood through a rose-tinted lens. Because it ain't all rainbows and butterflies.
As a mom of three who is deep in the trenches of the early years of child-rearing, I'd like to point out it's kinda hard to enjoy everything on those days when motherhood seems like an especially messy, exhausting, impossible task. (So, pretty much every morning when I'm attempting to get everyone out of the door and where they need to be on time.)
I think, sometimes, parents need permission to feel like it's OK not to enjoy every moment. Society already places so many expectations on new moms — to the point where they might feel like there's something wrong with them if welcoming a new baby doesn't immediately elicit a state of constant bliss.
As for my advice to expecting/new parents? I'd tell them it's OK not to feel an instant connection with their child. And that parenting is one of the most demanding journeys they'll experience, but it can also be one of the most rewarding. Yes, the years may seem to fly by — but the days can also seem incredibly long. It's OK to feel overwhelmed. It's OK to need and ask for help. Because it's so hard. And you're a freaking rock star.
Check out Romper's new video series, Bearing The Motherload, where disagreeing parents from different sides of an issue sit down with a mediator and talk about how to support (and not judge) each other's parenting perspectives. New episodes air Mondays on Facebook.