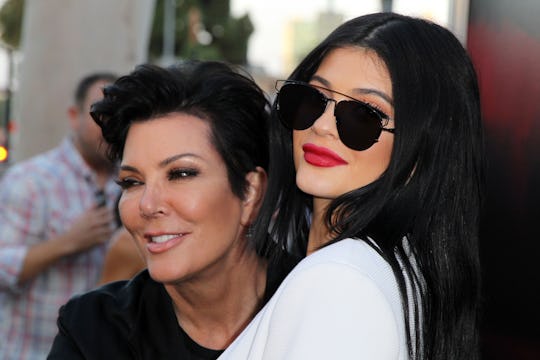 David Buchan/Getty Images Entertainment/Getty Images
Kris Jenner's Reaction To Kylie Jenner Giving Birth To Her First Child Is Seriously Touching
Well, folks, the day is finally here! After months of speculation and literally zero confirmation from anyone in the famous family, Kylie Jenner has officially put all those rumors rest and announced on Sunday that not only was she indeed pregnant, but she's already given birth. Understandably, people are collectively freaking out, but Kris Jenner's reaction to Kylie Jenner giving birth will make your heart burst because it's as sweet as any grandmother's reaction would be.
Now, Kylie's reveal was certainly newsworthy, as it had been a long time coming. But her mom's reaction to it was also pretty dang amazing. Kylie and her boyfriend, Travis Scott, decided to make a video documenting their amazing journey, and Kris was so proud and excited to share the sweet montage. On Twitter, she shared the video and wrote, "God is SO good!! I am so excited and thrilled to welcome another precious baby girl to our beautiful, ever growing family. We are blessed beyond belief!"
Kylie never actually revealed her pregnancy, only that she had given birth. On her Instagram page, Kylie addressed all the speculation surrounding her pregnancy with a paragraph explaining her decision to stay out of the spotlight. Per her post, Kylie and Travis' daughter was born on Feb. 1, 2018.
Kris' reaction to her daughter's birth reveal is definitely expected. After all, if there's one thing that Kris' years-long appearance on her family's numerous reality television shows makes clear, it's that she adores all of her grand babies. And her sharing Kylie's video makes that perfectly clear, as well as her being by Kylie's side at one of her doctor's appointments to hear the baby's heartbeat, as evidenced by the video.
The video, uploaded to Kylie's official YouTube page is fittingly titled "To Our Daughter," and basically shows Kylie's pregnancy journey at a lot of the milestones along the way. At certain points during the video, Kylie's best friend, Jordyn Woods, is seen explaining her friend's journey and speaking to the newborn baby, telling her when she first learned of her existence. Additionally, one of the video's sweetest moments comes when Jordyn says, "When you're 20 years old, you're just figuring out what you want." Jordyn went on, "there was one thing that your mom knew for sure, and that was you."
The video is basically perfect fan material for everyone wondering where Kylie has been the past five months. After the news of her pregnancy broke last September, Kylie practically disappeared from the public eye, which she explained in her Instagram post Sunday afternoon. "I knew my baby would feel every stress and ever emotion so I chose to do it this way for my little life and our happiness," she wrote. And honestly, who could blame her?
Kylie grew up in the spotlight, and so she's definitely entitled to privacy. And still, she decided to bless us mere mortals with an 11-minute video documenting so much of her pregnancy. Obviously, the video was filled with precious moments of Kylie's friends all talking about her being pregnant, as well as her family gathering around to support her. At one point, Kylie holds her new niece, Chicago West, as Kim sits next to her and tells her "I need to school you on what your vagina is about to feel like."
Also in the video, Kris is seen giving a message to her newest granddaughter, saying, "You've got the best mom, and you're so lucky." Kris also said, "I can't wait to see you, meet you, kiss you, love you, teach you things that maybe only I can teach you. And your mom can teach you the things she can teach you, so, it definitely takes a village."
And clearly, when that village is the Kardashian-Jenner family, Kylie's baby is in good hands.
Check out Romper's new video series, Bearing The Motherload, where disagreeing parents from different sides of an issue sit down with a mediator and talk about how to support (and not judge) each other's parenting perspectives. New episodes air Mondays on Facebook.