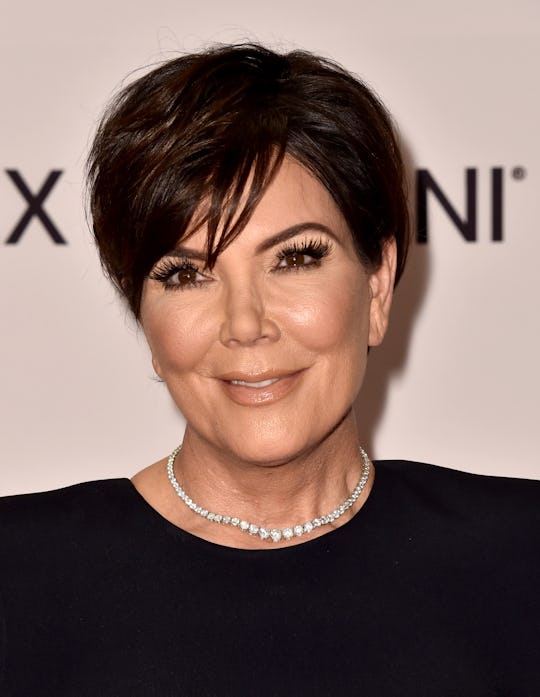 Alberto E. Rodriguez/Getty Images Entertainment/Getty Images
Kris Jenner Is Reportedly Upset Over Rob Kardashian's Blac Chyna Posts
On Wednesday, Rob Kardashian posted alleged nude pictures of his ex, Blac Chyna, and wrote about her alleged infidelity on Instagram and Twitter. His Instagram account was suspended and though he took to Twitter to finish his attack, by late Wednesday afternoon, the Kardashian brother seemed to have called it quits. Fans of the famous family are still awaiting an official response from his siblings, but mom Kris Jenner's rumored reaction to Rob Kardashian's posts about Blac Chyna might be the most telling of all.
On her personal social media accounts, the manager and matriarch of the Kardashian-Jenner empire busied herself with posting pictures of her daughter Kendall leaving a Vogue party while Rob was posting his own visual rant on Wednesday. Later, Jenner also posted an ad for Kim's beauty line — so though there is no official word yet about how she feels about her son's posts, it appears she's trying to maintain some semblance of normalcy. However, according to People, anonymous sources close to the family claim that the whole family is reportedly "deeply disappointed and frustrated with Rob." (Romper has reached out to Kris Jenner's representation for comment and is awaiting a response.)
The source in question also claimed that the family was reportedly most worried that Dream would be affected by the situation, though on Wednesday night, it appeared Rob was in custody of the baby, as he posted a picture of her in the bath.
The family is notoriously close and protective of each other, so it's likely that even if Kris is allegedly upset with her son, the public won't be hearing about it anytime soon. Rob's sisters also haven't posted or spoken about Wednesday's posts. Kim has been posting about her beauty line, Khloé shared fried chicken recipes, and Kylie posted some selfies. For the most part, it appears that they've agreed to let Rob and Blac Chyna work out the drama amongst themselves for now, though they haven't made an official statement.
That's probably the best strategy, too. Blac Chyna's lawyer said in a statement on Wednesday evening that Dream's mother is prepared to take legal action against her ex in response to his posts.
Blac Chyna's lawyer Walter Mosley told People that he was "exploring all legal remedies and protections available to my client at this time" in an attempt to "best advise her on how she may want to proceed."
Earlier this year, Jenner allegedly backed her son in his custody battle with Blac Chyna. But even as a proud and protective grandmother, Kris might take the most issue with some of things Rob's actions. Not only is she concerned about her granddaughter's situation, as a woman who's seen a similar situation play out from the opposite side of things, she has a right to be upset.
Late last month, Jenner told The Hollywood Reporter that the sex tape that was released of her daughter, Kim was "one of the most horrific things that we, as a family, went through." Jenner added that she takes offense to the jokes that she somehow used to the tape to launch her daughter's career or otherwise profit from it. Which is something people joke about all the time.
As Rob was posting images of his ex to social media on Wednesday, memes began to circulate insinuating that Jenner was hard at work trying to figure out how to monetize the situation. It's no surprise that Jenner and the rest of her family would be upset with Rob posting private images of his ex, especially since the same sort of thing hurt his sister back in 2006.
It's one thing for someone — be it Kim, Blac Chyna, or any other person — to choose to celebrate their body in public. It's an entirely different thing to use private images and post them without consent on the internet with the sole intention of bringing someone down. In many states, posting nude pictures of someone without their consent is considered illegal, after all.
If Jenner feels that Kim's leaked sex tape was "horrific" for the family, it's likely that she's equally upset this time around as well. All in all, it doesn't seem like an easy situation. Hopefully, Kris Jenner can help her family navigate their way out of it, as she always does.