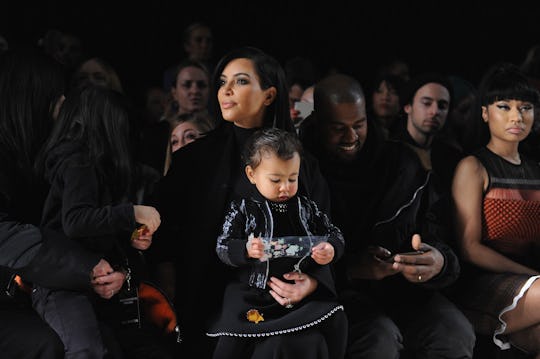 Craig Barritt/Getty Images Entertainment/Getty Images
Kris Jenner's Throwback To Kim & North West's Fashion-Inspired Costumes Is Too Great
There's no question Kim Kardashian knows how to make a splash with her fashion choices. Over the weekend Kim's mom Kris Jenner shared a sweet Halloween throwback photo on Instagram of Kim, North, and a couple of friends ready to get their trick or treat on. North West and Kim Kardashian's Halloween costumes were seriously committed to a fashion theme in this sweet memory shared by her mom.
Kim has had some pretty epic costumes over the years. There's sexy Bat Woman, sexy skeleton, sexy Princess Jasmine, sexy cheetah, and of course sexy Little Red Riding Hood, as illustrated by this comprehensive look at Kardashian costumes past from POPSUGAR. So when it comes to guessing her mom's favorite Halloween look from years past it was hard to pick a clear stand out.
But of course once you see it, it's obvious there is one Kim Kardashian xostume to rule them all, and it even included her adorable sidekick: North West.
"My favorite flashback!" the Instagram post from Kris read. "North West was @andreltalley #andreleontalle , Joyce Bonelli was @therealgracecoddington , and #zeplin was @karllagerfeld"
Kim can keep all of her bustiers and body paint, this take on a Chanel-suit-clad, bob-rocking Anna Wintour, accompanied by North as Andre Leon Talley is pretty much the cutest idea imaginable for two international fashionistas of their caliber.
Take a look at the picture, which, as Kris points out, also features makeup artist Joyce Bonelli as Grace Coddington and her son Zeplin as Karl Lagerfeld.
Cute, right?
Kim has kept a pretty low profile since she was robbed in a Paris hotel at gunpoint. According to New York Magazine she is trying to slowly step back out into the spotlight after the traumatizing event. She hasn't posted any photos of her or her children for Halloween. US Weekly reported Kim backed out of attending the Angel Ball in New York City on Nov. 21 with her family where her late father Robert Kardashian will be honored.
Kim has, according to US Weekly, resumed filming Keeping Up With The Kardashians and was seen at her husband Kanye West's concert recently.
But, The Daily Mail reported, Kim is planning to celebrate Halloween this year along with her sister Kourtney and her kids. "Kim is now excited for Halloween," a source told People, according to The Daily Mail. "She has decorated her house with spider webs and has costumes for the kids."
With Kim's history of embracing Halloween it will be interesting to see if the public catches a glimpse of the mother of two all dressed up and ready for an evening of trick or treating.