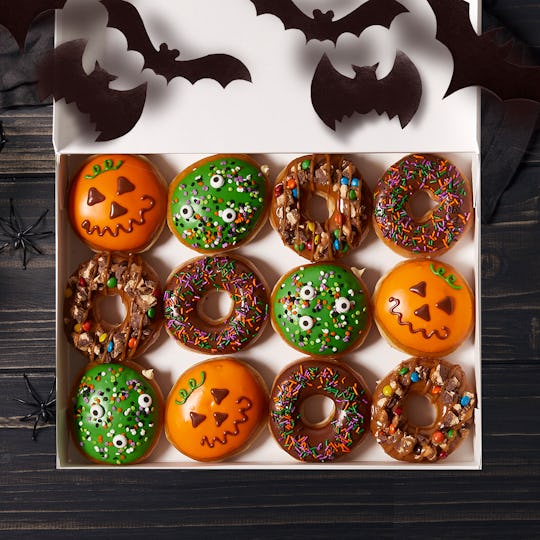 Krispy Kreme
Here's How You Can Get Krispy Kreme's New Trick-Or-Treat Doughnut For Free
When you're a kid, the concept of Halloween is basically the best thing ever — not only do you get to get dressed up as your favourite character, you then get to go around and collect bags full of free candy for no particular reason. But even though the fall holiday seems pretty hard to top, Krispy Kreme has found one way to make life even better for those of us with a serious sweet tooth: Krispy Kreme unveiled a Trick-or-Treat Doughnut for Halloween, and it's the latest in their lineup of tasty limited-edition treats.
Although this certainly isn't Krispy Kreme's first foray into Halloween-themed doughnuts, the newest offerings seem like their coolest ones yet. Both the Jack-O-Lantern Doughnut, as well as the Chocolate Iced Doughnut with Halloween Sprinkles are back for another year, but the new Trick-or-Treat Doughnut sounds pretty next-level. According to Krispy Kreme, the doughnut is an Original Glazed that is then "dipped and drizzled in salted caramel and topped with pieces of some of your favorite chocolate Halloween candies," which, let's be honest, sounds like an actual dream. But in case you were looking for something a little spookier, Krispy Kreme is also debuting its Monster Batter Doughnut, which has cake batter filling, "slime green icing," and is adorned with "monster eyes" and confetti.
Perhaps the most exciting part about Krispy Kreme's new Halloween doughnuts though? In the spirit of trick-or-treating, they'll also be giving them away. Although the Halloween doughnut will be available in stores until the end of the month, on Oct. 31, dropping by participating Krispy Kreme stories in costume will earn you a free treat. Although I'm not entirely sure I'd want to bring my kids for free doughnuts on the same day they'll be loading up on chocolate and candy, it is a pretty cool way to celebrate the holiday and get into the Halloween spirit if your treat-or-treating days are over. And, well, given that Halloween unfortunately happens to fall on a Wednesday this year, I'd say there are probably many of us who could use a delicious sugar-laden mid-week pick-me-up.
The goal with the new doughnuts, according to Krispy Kreme, is to bring together "the fun-filled spirit and delicious flavors of Halloween, creating an unexpected treat option for celebrations all month long. And according to the company's spokesperson, Alison Holder, it's also the "perfect spooky treat" regardless of your Halloween plans.
Krispy Kreme isn't the only place getting into the Halloween spirit though. If ice cream is more your child's speed, you might be pleased to know that Baskin-Robbins will be offering kids-sized scoops for $1.50 at participating locations nationwide on Oct. 31, and at IHOP, kids 12 and under can nab themselves a free Scary Face Pancake between 7 a.m. and 10 p.m. at participating locations.
Even though I never cared all that much for Halloween, becoming a mom gave me a whole new appreciation for the holiday — especially now that my kids are old enough to completely lose their minds over it (not to mention that they already had their costumes figured out months in advance). And although the idea of trick-or-treating around the neighborhood already sounds like plenty of fun — not to mention sugar — for little kids, it is pretty cool to know that there will be a little extra treat in store for them if they decide to head out in costume for a doughnut.