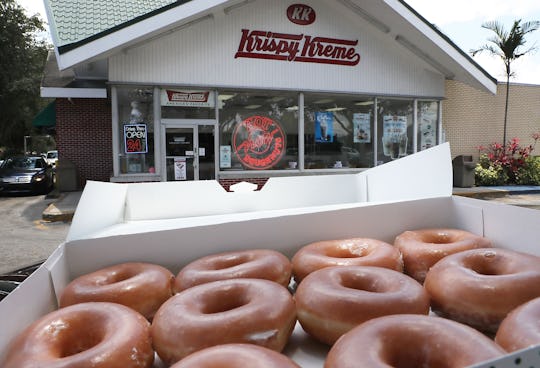 Joe Raedle/Getty Images News/Getty Images
Krispy Kreme's Day Of The Dozens Is Back, So Mark Your Calendar
The holidays are right around the corner — literally just weeks away. And as people's lists of to dos steadily grows, it would be nice to take a festive break and relax with a hot cup of coffee and maybe a pastry or two. Looks like someone is watching out for your best interests because Krispy Kreme's Day of the Dozens is back, so mark your calendars for a sweet treat.
On Wednesday, Dec. 12, customers can enjoy a dozen original glazed doughnuts for just $1 with the purchase of any dozen at regular price. And since many shoppers are working on strict holiday budget, the price is just right.
The offer is limited to two per customer and is only available at participating stores, according to a press release issued by the company. If you really want to get into the holiday spirit (sugar rush and all) you can share a pic of you and your doughnuts on Twitter or Facebook with the hashtag #DayofDozens and tag @krispykreme. And if, for any reason, you can't partake, you can later scroll through social media and see all the sugary fun you missed out on.
It won't be hard to fill up a dozen box because Krispy Kreme has some really cute (and tasty) holiday-themed doughnuts right now that are all aptly named including Holiday Plaid, Ugly Christmas Sweater, Santa Belly, Holiday Sprinkles, and more.
With at least 24 doughnuts in total, you'll be able to share at school drop off, at the office, or keep them all for yourself (no judgement).
This isn't Krispy Kreme's first Day of the Dozens. The company has been offering up the holiday deal for a few years now, and it's become something that fans wait for every year. Even Shaq loves it.
But this year has been special. On July 27, Krispy Kreme offered the dollar dozen with the purchase of one dozen at regular price in honor of its 81st birthday. So, if you missed that particular promotion, now is your chance.
It's hard to believe, but Krispy Kreme was founded in 1937. Today, its unique brand of "hot off the press" doughnuts are what keep fans coming back for more. Kids love being able to watch the fried cakes run through waterfall of icing (because, really, who wouldn't love a waterfall of icing?).
And if you ask nicely, they might even give you and your kids one of those cool paper hats like the ones that bakers wear behind the counter. Then you'll have a fun souvenir to sport while eating your tasty treat.
Krispy Kreme has over 300 stores in the United States, according to Statista. So hopefully you won't have a problem finding a place to score this once-a-year deal.
As Krispy Kreme noted in a recent Instagram post: D-o-u-g-h-n-u-t is an eight letter word for joy. Isn't that the truth!
So don't forget to mark your calendars for Wednesday, Dec. 12, so you can stock up on some tasty treats. Whether you decide to share or not is your call. Just remember Santa is watching, and it would be good to stay on the nice list.
This first-time mom wants to have a home birth, but is she ready? Watch how a doula supports a military mom who's determined to have a home birth in Episode One of Romper's Doula Diaries, Season Two, below. Visit Bustle Digital Group's YouTube page for the next three episodes, launching Mondays in December.